"Please Join Malaysian Ambassador Dato' Sri Dr. Jamaludin Jarjis for an introduction to Malaysian flavors," said the invitation to a cooking demonstration at the International Culinary Center in New York City.
These four chefs demonstrated (and we got to sample) a number of classic Malaysian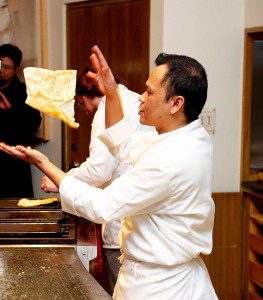 dishes. The first demonstration was by Hasni (Jeff) Ghazali, chef-owner of Bentara restaurant in New Haven, CT.  This is one dish that takes skill as you can see from Jeff tossing the Roti. My suggestions: head to Bentara and sample it there!
Stay tuned for the recipes from the other chefs.
Roti Chanai
Roti Chanai with Curry Lentil Sauce
Roti
1 cup water
2 T sweetened condensed milk
3/4 t kosher salt
2 1/2 c high-gluten flour, more for dusting
1 oz. ghee (or clarified butter), at room temperature; more for brushing and cooking
1 T vegetable oil
Curry Lentil Sauce
2 c water
3 cloves garlic
3 oz. shallots
3 oz. white onion
1 oz. ginger
6 T Madras hot curry powder
3 T sambal oelek (such as Huy Fong Foods, available at most Asian grocery stores)
1/4 c vegetable oil
Two 13.5-oz. cans coconut milk
8 oz. lentils
1 medium Yukon Gold potato, cut into 1/8-inch cubes
2 1/2 t kosher salt
For the Roti: Mix the water, condensed milk and salt in a bowl.
In a different bowl, mix the flour and ghee and make a well in the center. Pour the liquid ingredients in the well and knead outwardly until all the ingredients are incorporated. Knead for about 5 minutes more to form a soft dough. Drizzle the oil on the dough and knead for a couple more minutes. Cover the dough with a damp cloth and let it rest for about 1 hour at room temperature.
Divide the dough into 8 portions and mound each into a ball. Coat the dough balls with a bit of ghee so they won't stick to each other. Let rest for 2 hours.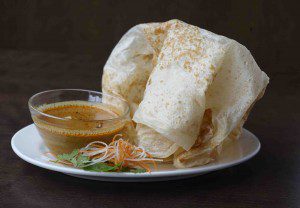 For the Curry Lentil Sauce: Blend the water, garlic, shallots, onion, ginger, curry powder, and sambal oelek in a blender for a few seconds to form a paste.
Heat the oil in a medium saucepan over medium heat. When shimmering, add the blended ingredients and cook, stirring frequently, until fragrant and the oil rises above the mix, about 10 minutes. If the mix appears to be burning, turn down the heat to medium low.
Add the coconut milk, lentils, potato, and salt. Bring to a boil over medium-high heat, reduce the heat to medium low and simmer until the lentils are fully cooked, 30 to 45 minutes. Season to taste with more salt.
Making the Roti: On a large, lightly floured surface, roll each ball until paper thin and between 24 and 30 inches in diameter. (Malaysian cooks achieve this thinness with a special technique called "tebar," by which the dough is flattened and tossed in the air several times.) Fold four sides of the dough into the middle to form a square.
Melt a little bit of the ghee in a preheated cast-iron skillet (or a large griddle) over medium heat. Cook the roti one at a time, turning once or twice, until golden brown, 5 to 7 minutes. (If using a griddle you can put as many roti on the griddle as there is space for). Put the cooked roti on a flat surface and give it a light whack with your hand, then turn it 90 degrees and give it another light whack (doing this separates the layers a bit and makes the roti fluffier).
Serve immediately with the Curry Lentil Sauce.
Makes 8 servings
– bonnie