Until recently, the Oscars had been my Superbowl. Nothing could have kept me — the Oscaraholic — from watching. But no longer, as in the past few years the show became incredibly boring. So this year, I decided to have a few people over to my pied-à-terre to watch my new Oscars… the Golden Globes.

So what to serve? Since my place is very tiny  — about 500 square feet —  with a workable, but tiny kitchen  I wanted something that I could make ahead so I could enjoy the red carpet and awards with my guests. Perhaps a pasta salad with lots of veggies, I thought.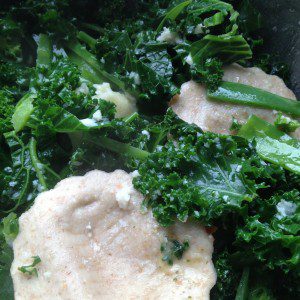 I began looking 'round the web and tripped over a recipe I liked on 101 Cookbooks, one of the first successful food blogs written by photographer turned food writer Heidi Swanson.  I had met Heidi on a press trip to Puglia about seven years ago. I was just starting Bite of the Best, while she already had a following. Heidi was so ahead of her time.
What I liked about Heidi's pasta salad was that she did it all in one pot by cooking the pasta and adding the veggies to that water before draining. I also liked that she seasoned it with only extra virgin olive oil and salt.
I decided to use a couple varieties of Monterey Pasta Company's ravioli including the Creamy Ricotta Florentine Ravioli.  And, being on a kale kick, I bought some of that nutritious veggie some snow peas, baby bok choy, Brussels sprouts and fennel.
I decided to roast baby bok choy, Brussels sprouts and fennel in a 450-oven until caramelized, just drizzled with olive oil and sprinkled with salt. The bok choy needs a minute or two, the others about 25 – 35, depending on the size pieces. I served that as a side dish.
I cooked the pasta in salted water, added the kale and snow pea a couple minutes before the pasta was done cooking, drained it all and added a couple splashed a basil-infused olive oil and a hefty sprinkling of sea salt. Before serving later that evening, I garnished it with toasted slivered almonds and freshly shredded Parmigiano Reggiano cheese.
If you decide to try it, realize that the recipe works for many vegetables, especially those that are cooked in just a few minutes in boiling water. The more the veggies the better!
Some suggestions and the timing include:
asparagus, trimmed and sliced on the diagonal (2 minutes)
broccoli florets (3 minutes)
collard greens (3 minutes)
green beans, trimmed and cut on the diagonal (2)
spinach (1 minute)
I think you'll agree that this recipe takes the gold in the make-ahead category!
Ravioli Salad with Veggies
1 pound ricotta-Florentine ravioli (or any stuffed ravioli)
1/3 pound snow peas, trimmed and julienned
1/2 pound fresh kale, stems removed and shredded
Extra-virgin olive oil, (I used Lucini basil-infused EVOO)
1/2 cup blanched slivered, toasted
Sea salt
Shredded Parmesan cheese, for garnish
Heat a large pot of well-salted water to boiling. Add the ravioli. Two minutes before the ravioli are cooked, add the snow peas and kale.  (Cooking time depends on the size and temperature of the ravioli; check the package direction.)
Drain into a large colander, then transfer to a large bowl and gently toss with a couple big splashes of olive oil and a pinch or two of salt.
Serve from the bowl or on a simple platter, adding the almonds and some Parmesan before serving.
Makes 6 main-dish servings
Drug interaction note:  Vitamin K-rich foods — including kale, spinach and Brussels sprouts —  may interfere with the action of the blood thinner Coumadin (warfarin). Consult your doctor or dietitian.