A return visit to Maialino in the Gramercy Park Hotel proved just as perfect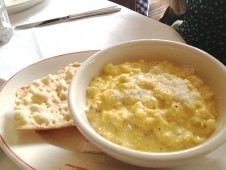 as my first visits when this Roman-style trattoria opened a couple years ago. It's one of Danny Meyer's Union Square Hospitality Group places.
We started with their incredible house made pastries. The cotto biscuit ($4) with pork pieces in a honey butter glazed biscuit served in a pool of honey, and the nut cornetto ($4), an almond frangipane filled croissant. The former is so decadent that I plan to stop by and sit at the bar one morning to just have a cup of freshly brewed coffee and that for breakfast.
My only disappointment were the bloody Mary's — one traditional and one made with smoked vodka $11 – $13— disappointing as they each were a bit watery and not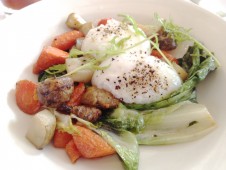 balanced in seasoning.
Our entrees were perfection. My favorite is still the eggs cacio peppe – or soft scrambled eggs with pecorino cheese and lots of black pepper ($14). Also good are the ricotta pancakes ($14) with apricot jam and the contadino (lightly poached eggs so the yolks were still runny, atop  roasted carrots, sunchokes and escarole $14.
Delightful! Just be sure to make a reservation well in advance.
– bonnie
Follow @BonnieBOTB
Maialino in the
Gramercy Park Hotel
2 Lexington Ave, New York, NY 10010
(212) 777-2410
www.maialinonyc.com