Stopped into Maialino at the Gramercy Hotel for a quick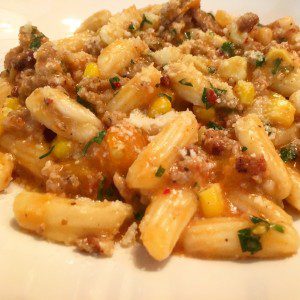 bite with friends. I caught up with them almost after they had finished dining as I was waiting on multiple deliveries for my new apartment. I was doing what I was told couldn't be done — a 6-week, 1-bedroom total-gut renovation.
I ordered cavatelli, the pasta recommended by one of the servers, and joined the lively conversation.
I'd recommend this light dish with crumbled pork sausage, yellow tomatoes and fresh corn combined with a perfect amount of grated pecorino cheese ($28, which as in all Danny Meyer restaurants now includes tip).
Maialino is worth the trip.
– bonnie
Maialino in the
Gramercy Park Hotel
2 Lexington Ave, New York, NY 10010
(212) 777-2410
www.maialinonyc.com