Maggie Salter, proprietress of Bishop Farm, Lisbon NH, serves this spinach and cheese pie to her farmhouse bed & breakfast guests. I sampled this tasty breakfast item — which Maggie adapted from a magazine recipe she found long ago — last fall during the wedding weekend of Eric Leblang and Casey Brogdon.
Maggie's Spinach & Cheese Pie
2 10-ounce packages frozen spinach, thawed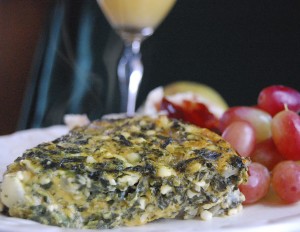 4 T (1/2 stick) salted butter
1 onion chopped
2 cloves garlic, minced
6 Bishop Farm free-range eggs
16-ounce cottage cheese
1 pound shredded Cheddar cheese
Freshly ground black pepper
Preheat oven to 350. Spray two 9-inch glass pie plates with non-stick spray.
Squeeze out and discard excess water from spinach.
Heat butter over medium heat, then add onion and garlic and saute until soft, about 5 minutes.
Whip the eggs with a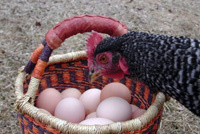 whisk in a large bowl, then add the sauteed onions and garlic, cottage cheese and cheddar cheese. Mix well, then add spinach.
Pour into the prepared dishes, season with pepper and bake about about 45 minutes or until a knife inserted in the center comes out clean. Let cool slightly (about 10 minutes) before cutting into wedges and serving.
Makes 8 to 10 servings.
– bonnie