My experience at Lure Fishbar started off on a sour note with the person seating me, forgetting about my request for another table as I stood waiting by the original one. It was all uphill from there.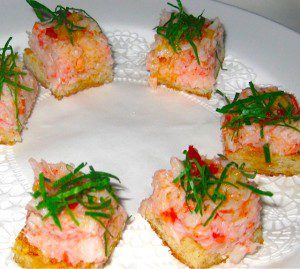 The friend I met for dinner and I had met about 25 years ago on a press trip to Maine where we both had our very first lobster roll in the small garden of the Pomegranate Inn (Portland). Although lobster rolls don't get much fresher or better than in Maine, I have kept looking.
I mention this as we ordered two lobster dishes. First we sampled the oddly named Lobster Croutons ($16), with minced lobster on toasted – and buttered – sourdough squares with tiny chili peppers. They were fine, but quite buttery rich.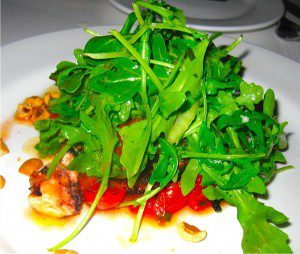 When our Grilled Octopus ($17) salad arrived, we wondered where the octopus was. Under the nicely seasoned arugula, charred tomatoes and toasted hazelnuts where chunks of tender tasty octopus. We both would have liked more.
We also tried a half-order of the rich and creamy burrata ravioli ($16) with sauteed cauliflower, chanterelles and shavings of bottarga (cured and dried fish roe).
For our so-called entrees, we ordered a weird combo of two dishes, which the kitchen nicely split, plated and served. In memory of our meeting, we ordered the lobster roll accompanied by cole slaw and fries, the latter that  we both ordered well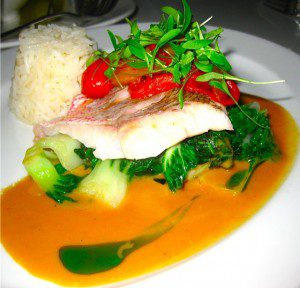 done to assure their crispness! This roll actually rivaled our first on in Maine.
Our steamed red snapper in a red curry broth served over bok choy and with Jasmine rice ($29)  paled next to the lobster. To be fair, it was delicate and tasty and it arrived before the lobster,  it would have shone.
If you go, don't miss the lobster roll!
– bonnie
Follow @BonnieBOTB