I visited Lowcountry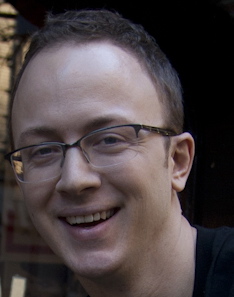 for brunch one Sunday recently when guest chef Ron Eyester from Rosebud in Atlanta was in the kitchen, cooking along with Lowcountry chef/owner Oliver Gift (previously at Commerce & Blue Hill at Stone Barns). I enjoyed the hospitality so much that I returned a few weeks later for dinner!
At brunch, I indulged in a refreshing mimosa made with blood orange juice, Grand Marnier and cava ($12). The others were more daring, sampled brunch cocktails including the dirty white Mary ($12) made with crop organic tomato vodka, house made pickle juice, sliced green tomatoes and Tabasco sauce. Now that drink jump-started them. (I tried it again when I returned, as I love spicy stuff asking for green pickled tomato juice instead of pickle juice!)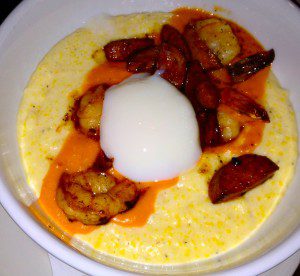 I loved the guest chef's Breakfast in a Jar — literally a mason jar filled with stone-ground grits, goat cheese a soft poached egg and candied bacon ($12) as well as the Oliver Gift's standard Carolina s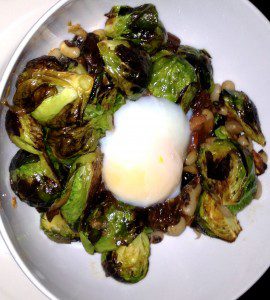 hrimp & grits – a huge bowl of cheddar grits, spicy andouille sausage, a poached egg and tomato gravy ($18). The dish is served at dinner sans the egg.
Our table of six also sampled the winter veggies with poached egg ($15): sauteed Brussels sprouts and mushrooms over white beans, topped with the egg and shaved parmigiano ($15); fried chicken and waffles ($18), consisting of two waffles with cider vinegar slaw, kewpie mayo a maple sambal glaze ($18) and cubes of fried battered chicken and a huge pork schnitzel sandwich, the pork was topped with a fried egg on a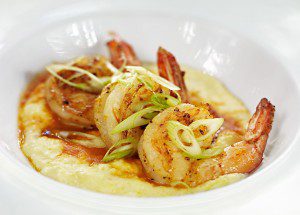 creamy green goddess spread and served with a smoked lemon to drizzle over the sandwich ($19).
Whatever you do, do not  miss their irresistible Pecan-Bacon lick-your-fingers Sticky Buns ($8)!
As for dinner apps, be sure to try Oliver's bacon deviled eggs ($6), Pork Rinds ($7) with a slurry of honey and house made hot sauce or the corn-crusted fried okra with a ranch dressing. Also tasty are the pork belly sliders with pickles and a cucumber lime slaw ($12), the romaine heart salad ($13) topped with applewoood smoked bacon, charred scallions and pickled onions; fried green tomatoes with slivered fennel, radishes and a red pepper salad served with a Cajun remoulade ($14); or the yummy roasted brussels sprouts side, with bacon and chili flakes ($9).
Give it a try for brunch  or come in for apps  and sides served with lots of southern hospitality!
– bonnie
Follow @BonnieBOTB
Lowcountry
142 W 10th St
New York, NY 10014
(212) 255-2330
lowcountrynewyork.com