Sitting outside on 3rd Street in McMinnville, in the Willamette (OR) Valley, I sipped a not-sickly-sweet huge margarita ($5.50) that the restaurant called "small" with their freshly made warm chips and a piquant sauce. I had planned to order lunch, but instead ordered a side of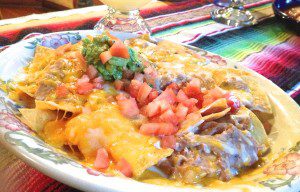 their freshly made guacamole ($3.50). That ended up being more than enough food for a nibble.
We came back one evening for a dinner that didn't break the bank starting again with their delicious margies. We sampled the super nachos ($6.50) with refried beans, topped with diced fresh tomatoes and a dollop of guacamole. The taco salad cuzuella ($7.50) arrived in a crisp taco shell, garnished with sour cream and more guacamole; the huge and flavorful chimichanga, buritto platter( $10.95) came replete with the refried beans, rice and guac.
Another tasty, pleasantly served, meal in McMinnville that won't break the bank. I recommend.
– bonnie
Los Molcajates Mexican Restaurant & Bar
527 NE 3rd St
McMinnville, OR 97128
(503) 434-2780