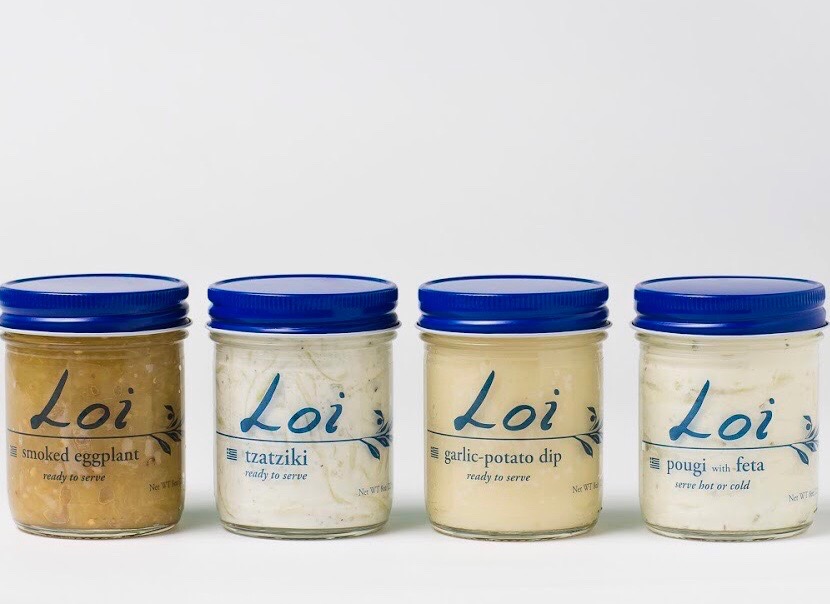 My friend and fellow Dame — a member of Les Dames d'Escoffier — Chef Maria Loi has created a line of four fresh ready-to-serve dips, ones that she serves as starters at Loi Estiatorio (her NYC restaurant NYC on west 58th) and that follow the principals of her book, The Greek Diet.
I put these out at a brunch recently with veggies for dipping and asked my guests to choose their favorite. The top choice was the pougi with feta, a dip made with Greek yogurt, feta, olive oil, and a little bit of spice. A 2-tablespoon serving contains 70 calories, 7 grams fat (of which 3 are saturated) and 170 mg sodium.
Tied for second were her tzatziki, made Greek yogurt, cucumber and a hint of garlic, a 2-tablespoon serving contains 35 calories, 3 grams fat, of which 1.5 is saturated, and 75 mg sodium; and my personal favorite the smoky eggplant dip with a splash of both EVOO and vinegar plus some garlic.
She also has a garlic-potato dip (skordalia), that she recommends serving slathered on pasta or bread.  A 2-tablespoons serving of that contains 35 calories, 3 grams fat and 60 mg sodium in a 2 tablespoon serving ​
If you're lucky enough to live in the Northeast regions (NY, CT, and NJ), you can buy them at the Whole Foods in your area.