After entering the Wasatch National Forest, I rechecked the address on my GPS  to be sure I had entered the address of Log Haven restaurant.  I had.
We almost missed the historic log mansion nestled serenely into the mountain side as w
e were drinking in the spectacular scenery. Although the restaurant is  just 20 minutes from downtown Salt Lake City, it's a world away.
We sat in the cozy log chairs by the unlit fireplace to enjoy the music of pianist,  Ike Egan who we later learned has worked with Donny and Marie. Note to self: return in the winter to enjoy this romantic setting by crackling fire!
Listen to the attentive waitstaff, as they know their menu and portions. Our waitress suggested only a "taste" portion ($9) of the Alpine Nachos. We're glad we listed, as the house made Yukon gold potato chips, topped with raclette cheese, green onions,  smoke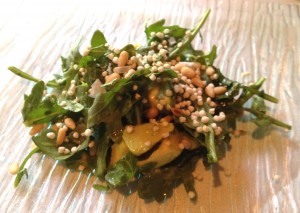 d prosciutto and wild forest mushrooms is hearty indeed and not to be missed. She drizzled it with white truffle oil.
The Grilled Monterey Bay Calamari ($13.50) comes with chick peas, poblano chilies and onions atop a spicy tomato coulis that was drizzled with a lime aioli. For texture it's topped with tortilla crumbles.
The light salad contained wild arugula, avocado, usually puffed airy quinoa, a few pine nuts all drizzled with lemon juice and extra virgin olive oil ($8.60).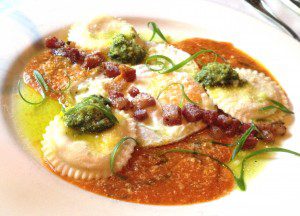 We had to sample the unusual sounding and beautifully presented polenta-stuffed ravioli ($12.50), topped with diced pancetta (adding texture), with an arrabiata (angry red) sauce, basil pesto dollops (although the menu said arugula pest0) and one fried organic local egg drizzled in green garlic oil.  Our server instructed us to break the yolk and toss it all together.
We cleared our palate with a fruity grapefruit sorbet intermezzo topped with Gruet Brut sparkling.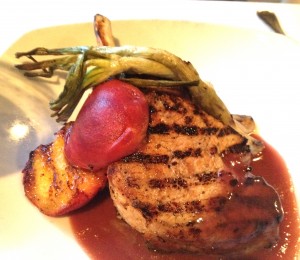 The grilled Bison Bavette steak ($34.50) in bordelaise sauce and rosemary aioli came with Brussels sprouts that could been a meal in themselves: they were flash fried tossed with balsamic vinegar and finished with pancetta and cipollini onions.
We were intrigued by the menu described dish of hand-cut serrano chile pasta tossed with smoked duck, poblano chilies, sweet onions, Beehive habanero's cheddar, mango salsa and chipotle butter ($30.50), sadly it didn't deliver on what sounded like amazing flavors.
The evening's best was the huge, but tender, buttermilk brined Ballard Farm's pork chop served with pistachio quinoa, sweet onion puree, rhubarb port reduction ($28.50). I recommend this dish.
We then sampled their frozen coconut souffle (house made ice cream rolled in toasted coconut) with a roasted pineapple sauce and candied macadamia nuts ($8.50), a chocolate lovers dream of a warm bittersweet chocolate lava cake with Redmond's salted  caramel ice cream, white chocolate caramel popcorn all  drizzled with clear caramel and sea salt ($9); and their  milk chocolate and peanut butter silk, wtih  roasted banana bourbon ice cream, topped with hazelnut feuillantine crumbles and Amano chocolate sauce ($7).
Enjoy this seasonal  New American cuisine any season, while enjoying the spectacular view (we had a waterfall visible from our window), romantic setting and incredible service.
– bonnie
Log Haven
6451 East Millcreek Canyon Road
Salt Lake City, UT 84109
log-haven.com
(801) 272-8255