The McKittrick Hotel isn't a hotel at all, but the home of the immersive theatre Sleep No More and their latest offering Flight, which just got a rave review from The NYTimes.  This unusual place is located way west in Chelsea between 10th and 11th Avenues on 27th street nestled among the art galleries.
This winter, the McKittrick Hotel added brunch to their offerings at the rooftop restaurant. I didn't make it for brunch but did go for dinner one evening. I also experienced Flight, a story of two young orphaned brothers who embark on a desperate odyssey to freedom and safety done in a multi-level rotating minutely detailed diorama that you watch while seated in your own booth with headphones. This 45-minute Vox Motus production — which adapts Hinterland, a novel by Caroline Brothers — was a hit at the Edinburgh International Festival. It closes March 25, 2018. For a full review of Flight click here .
At this time of year (AKA winter), the rooftop garden bar Gallow Green becomes a cozy lodge in winter replete with unusual areas to eat and drink such as bunk beds or a queen-size bed (sounds good for brunch!) and lots of seating in a wooden walls lined with books and dried herbs hanging from the rafters. The Lodge closes for the season on April 1. (Gallow Green will reopen for the season on Friday, April, 20.)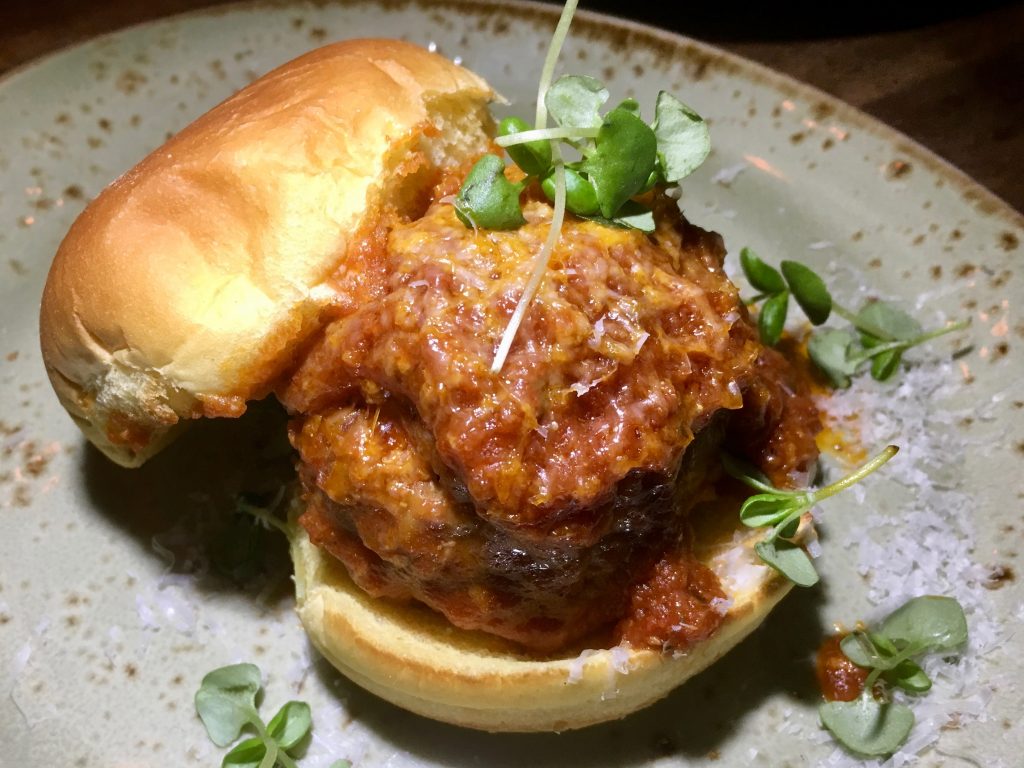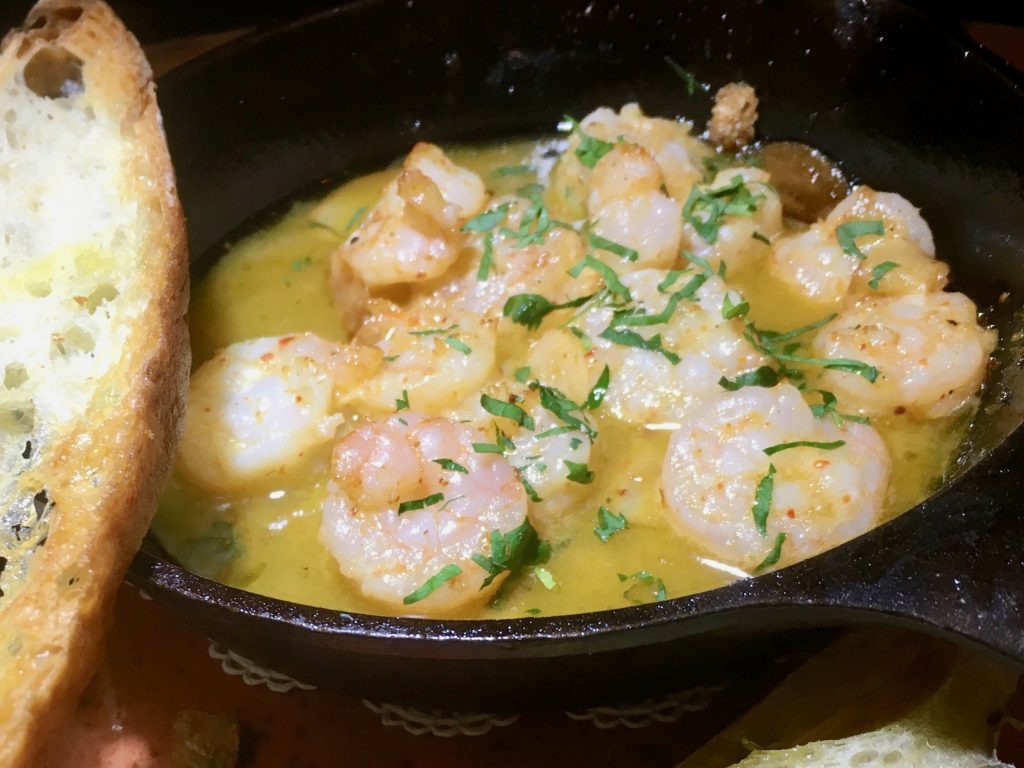 I started with the Illusionist, one of their potent cocktails, similar to an Old Fashioned,  made with Glenlivet Founder's Reserve Scotch, a honey lemon syrup, a spray of peated Nàdurra and garnished with candied ginger. I recommend!
I have to admit, I wasn't expecting to be impressed with the food on the small menu. I was oh, so wrong. Their ribs ($26 for five) are meaty, peppery and a tad sweet from the pomegranate molasses. Worth ordering as are the large lamb meatball sliders ($19 for two) in tomato sauce on a potato roll. (I requested only one to have room, because as their guest I was sampling lots.)
When the shrimp ($16) arrived at the table, we weren't impressed as they were the tiny ones. That is until we took a bite!  They are packed with flavor from their buttery garlicky and lemony sauce.
The kale Caesar  ($16)— the salad of the decade — tasted as if the Lacinato kale had just been picked. Refreshingly good.
Next, we sampled the specialty pizzas cooked in their wood-burning oven.  One had wood-fired specialty mushrooms with Taleggio cheese, topped with fresh kale ($20). The other came topped with three kinds of cheese (burrata, pecorino and parmesan) topped with slices of prosciutto and fresh arugula ($21). I recommend both.
Although I was not wild about the Nutella calzone with almond pieces ($13), my friend loved it.  I highly recommend a visit to the McKittrick Hotel.
Lodge at Gallow Green
Mckittrick Hotel
542 W 27th Street
New York, NY 10001
(212) 564-1662