One free evening in Cusco,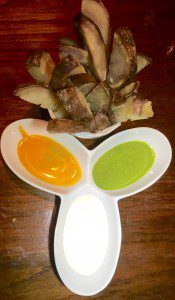 a group of us headed up to the main square where Limo, also part of the Cusco restaurant group, is located.
While perusing the menu, our server placed a sampling of three sauces for dipping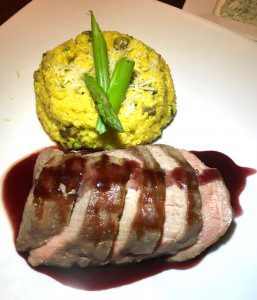 the french fries they offered as a starter gratis. One sauce was chili peppers with tomato sauce, another pepper with ricotta and mint, the third garlic mayo. All so yummy, I was addicted!
My first taste of alpaca (~$20) was Limo's tenderloin, served medium rare with an elderberry sauce, accompanied by cheesy quinoa "risotto." The meat is tender, a bit chewy but not gamey at all. I'd order it again, if the opportunity arose. I'd recommend.
We also shared a wonderfully flavorful Amazon fish stew (~$21), with pan-seared paiche (a fresh-water fish) and cured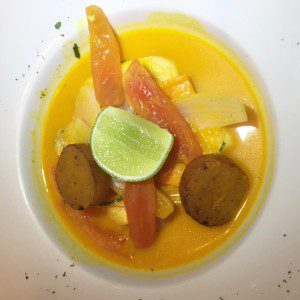 meat in a tomato and chilies broth. It was so perfectly seasoned, we sopped up every drop.
If you make it to Cusco, be sure to make a reservation a Limo in the Plaza de Arma.
– bonnie
LIMO Cocina Peruana & Pisco Bar
Portal de Carnes 236, Floor 2,
Plaza de Armas
Cusco, Peru
+51 084 240668
Save
Save