The Leukemia & Lymphoma Society's (LLS) Connecticut Chapter will host Hops & Grapes, Toasts & Tastes at Chelsea Piers, Stamford, (CT) on Friday, April 25th from 7:30 to 10:30pm.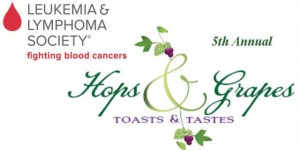 Local restaurants, and distributors will showcase a selection of foods, wines and beers. LLS hopes to raise over $50,000 during this fun-filled evening. The evening's festivities will include a silent and live auction and raffle.
To this date, Hops & Grapes vendors include: Back East Brewing Company, Bar Russo, Bar Sugo, Beverage Boss, Cabot Creamery Cooperative, Cakey Kathy, Capriccio Café, Casa Villa, Chocolations, Colony Grill, Dash N Drizzle, DiMare Pastry Shop, Farmboys Smokin' BBQ, J'amie ҫa Cake c/o Bar Sugo, Little Pub, Lola's Mexican Kitchen, Myrna's Kitchen, P.F. Chang's Stamford, Remo's Brick Oven Pizza Company, Wave Hill Breads Bakery & Café, Wildtree- Kate Roller and Winfield's Atrium Restaurant- Hyatt Regency Greenwich
Tickets  are $75 each, two for $125. VIP tickets are available at $100 each or $175 for two and include a LLS Relentless wristband, raffle ticket, and deluxe gift bag. For more information or reservations or visit click here.
For more information about blood cancer, visit www.LLS.org or call LLS' Information Resource Center (IRC), a call center staffed by master's level social workers, nurses and health educators who provide information, support and resources to patients and their families and caregivers. IRC information specialists are available at (800) 955-4572, Monday through Friday, 9 a.m. to 6 p.m. ET.
– guest contributor