Lenny & Joes's slipped into the space formerly occupied by Leon's (and Rusty Scupper before that) on the water in New Haven around the corner from Long Wharf Theatre. I stopped by this week for a quick dinner before heading to the world premier of Laura Jacqmin's "January Joiner: A Weight Loss Horror Comedy" on Stage II, now through February 10, 2013.
Expect the same great seafood and friendly service that you're familiar with from Lenny & Joe's on the shoreline. Don't miss the perfectly seasoned creamy clam chowder (made so with only a splash of milk); it's chock full of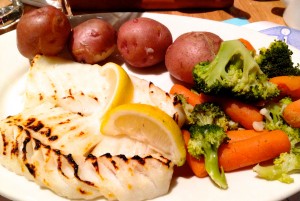 clams and potato chunks ($3.95 a cup).
Also fabulous was the broiled fish. I had the scrod ($16.99), my dining partner, the sole ($15.99). Both were hearty tender and flaky perfectly cooked portions. Sadly the accompaniments were anything but, as the boiled potatoes had no flavor and the veggies were overcooked. Since that's not what Lenny & Joe's is known for, I suggest splurging when you go and ordering fries and coleslaw!
As for January Joiner — Yale graduate Laura Jacqmin's new play directed by Eric Ting — it's well-acted enjoyable theatre that touches on — but only circumvents — real weight issues. Like most Americans, each character in the play has body image issues, none of which are resolved or fully explored through this production. Tickets ($45-$65) are available by clicking here or by calling 203.787.4282.
In conjunction with the play, some leading thinkers on the subject of obesity and its related consequences will gather at Long Wharf Theatre January 24-25 to discuss this health epidemic at the 5th annual Global Health and the Arts Symposium, led by Event Chair David Scheer, president of Scheer & Company and a member of Long Wharf Theatre's Board of Trustees, and Co-Chair Kelly Brownell, director of Yale's Rudd Center for Food Policy and Obesity. For more information about the event or to register, call 203.787.4282.
Lenny & Joe's
501 Long Wharf Dr
New Haven, CT 06511
(203) 691-6619