Knowing that Le Pigeon's Gabriel Rucker had won his second James Beard Award, I decided to sample his food when visiting Portand (OR) recently. In 2011, Rucker won the prize for Rising Star Chef of the Year. This year, he took home the prize for Best Chef Northwest.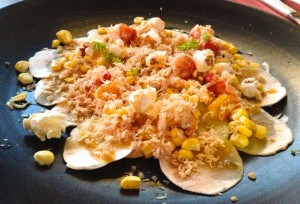 The welcoming hostess offered us each a glass of bubbly, the Crémant de Limoux Rosé, Dom. de Martinolles Languedoc ($13) as we sat outside on the bench in front of the small restaurant perusing the menu offerings. Lucky us, our table wasn't ready.
Le Pigeon is very small space, offering mainly communal tables. I thought that off putting, but the good food made us forget. Worth the trip alone is Paris mushroom carpaccio, where thinly sliced button mushrooms serve as a carpet for butter-poached lobster knuckles tossed with popcorn and lobster-roe powdered corn. Grated on top as "cheese" is salt-cured foie gras. Amazing amalgam of flavors just as in the Foie Gras "Ants On a Log" ($20). A cold foie gras torchon rolled in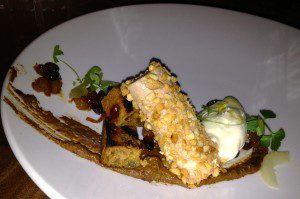 salt-roasted peanuts, rests against porcini mushroom and raisin bread and white chocolate savory ice cream, all on a porcini mushroom "peanut butter" decorated plate. Wow!
Sadly our fried oysters, weren't fresh. Fishy in fact. Management removed them from our bill, as they should have. Good was the sliced pigeon breast on grilled onions all in a hot sauce butter ($18) with a crisp wonton side.
Served "Moo Shu" style with a bun, the Asian-flavored duck came with some plum chutney, scallions strips and lots of beech mushrooms ($30). The steamed fillet of Oregon black cod ($31) arrived on a ribbon pile of zucchini and onions all in a mussel beurre blanc sauce, topped with orange blossom, and microgreens. Delicate, light. Also good was the perfectly cooked hanger steak with an an onion tart tatin, fresh figs and arugula salad ($28).
But it's foie gras where Gabriel Rucker glistens. That's obvious from his appetizers to the dessert with every part made out of foie gras. I gotta wonder about his lipid levels! He used foie gras as the fat in the profiteroles and the ice cream; for a sweet sauce made by caramelizing; and grated over the dessert.  His creative uses will give new responses to "what's the best foie gras you've eaten?"
Worth making a special trip!
– bonnie
The Pigeon
738 E Burnside St
Portland, OR 97214
(503) 546 – 8796