In writing about the semifinalists for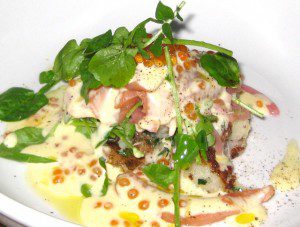 the James Beard awards I noticed Le Farm — a restaurant in Connecticut that I hadn't experienced.
I had to sample it — as it was one of two Connecticut restaurants that were even mentioned. I wasn't disappointed.
The small restaurant is located in a small shopping center on the Post Road, near the Westport Playhouse.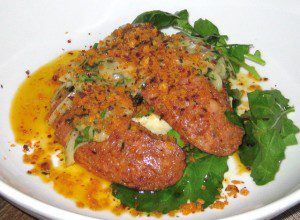 The smoked trout with fried chunks of potato, seasoned with horseradish came topped with a not too rich (Read: nicely balanced) roe hollandaise ($16). My favorite dish of the evening.
The griddled chorizo came with an onion dressing and a way too salty cheddar grit cake ($15), which I mentioned to our attentive waiter. He removed it from the table and went to discuss it with chef owner Bill Faibe. Moments later, Bill was standing beside the table, thanking me for pointing it out. Bill removed the grit cake from the menu and removed the dish from our check.
Next we tried the arugula, sorrel & dandelion salad with Meyer lemon, a soft-cooked egg, capers in a Parmesan dressing ($15). Light and unusual.
We followed that with a leg quarter of  duck confit with beluga lentils, tomcat gra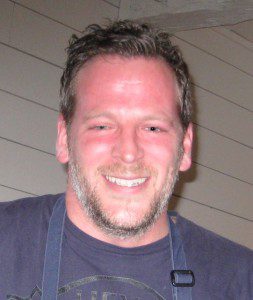 pes,  mushrooms and verjus ($16).
Desserts ($10 each) were amazing – with my favorite a not-yet-on-the menu almond joy  – almond gelato, chocolate sauce and with a macaroon; the warm "slightly  gimmicky" as the NYTimes referred to it cornbread with maple-chili gelato, candied bacon and local honey (Sorry, I'm not from the bacon-in-everything camp.); vanilla bean panna cotta with cherry marmalade and pistachios; and a delicated chocolate pot de creme with peanut butter cream and salted pretzels.
– bonnie