After sampling Kathy Wong's perfectly spiced Beef Rendang at a Malaysian Kitchen
demo
earlier this year, I just had to sample her shrimp version at Laut, her Malaysian/Thai restaurant in Union Square. I wasn't disappointed.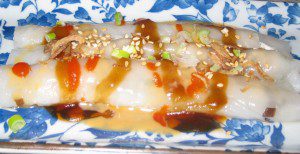 To start, I had her Rice Crepe ($7), a steamed rice crepe filled with a shrimp, chicken, mushroom and onion blend, with a ssweet and piquant plum chili sauce. A bottle of  BTL riesling ($35) complemented the spiciness of the dish.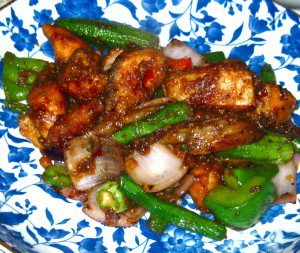 Next the flavorful Shrimp Rendang ($16) with just enough spice for my palatte, cooled a bit when mixed with the aromatic rice.
The Salmon Sambal dinner ($17) is also worth sampling with it's also mixture of okra eggplant, string beans, bell pepper and onions in a spicy chili sauce.
I — for sure — will return to try some of Kathy's other offerings.
Laut
15 E 17th St
New York, NY 10003
lautnyc.com
212)-206-8989