Stopped at Landmarc in the Time Warner Center on a Sunday for brunch as my food-editor friend raved about their eggs poached in red wine. That and the location was exactly where I needed to be after eating those eggs for a decadent Mandarin Oriental spa visit.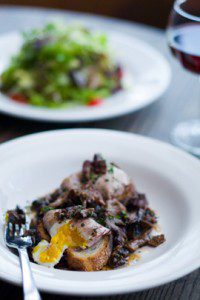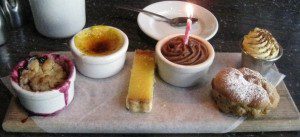 This was to be the start of a BIG birthday celebration for my friend Lehua. She  had the eggs benedict florentine (English muffin & Ham, spinach and hollandaise sauce $14,) and I tried those recommended eggs en muerette (bacon, onions, mushrooms and red wine, $14). Sadly it was before noon on a Sunday so we weren't allowed to begin with a champagne mimosa. (When will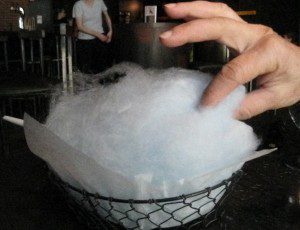 NYC get rid of that antiquated law?!)
I has asked the waitress to just put a candle in a small breakfast pastry, as I knew what we had in store for the rest of the day's celebration.  Instead she brought an entire array of mini-desserts (tiramisu, chocolate mouse, lemon tart, creme brulee, a profiterole, blueberry buckle and a basket of cotton candy) with a candle in one item and charged me $16. ;-(
As for the spa visit, I bumped into Anna Deavere Smith in her robe in the locker room after she visited the spa's waterworks.  (I've seen her on stage at Long Wharf Theatre in New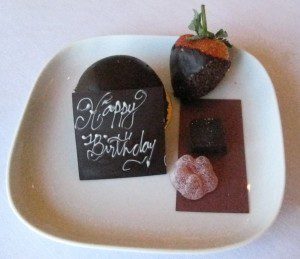 Haven, on TV in West Wing and in Film in "Rachel Getting Married," among so very many others – she also just finished a run on Broadway in "Let Me Down Easy").
After our massages (which by the way were wonderful!), one attendant asked me to join Lehua in a private room for tea. They had presented her with a chocolate bomb, a chocolate-dipped fresh strawberry, "happy birthday" written on chocolate and a few pieces of candy. That and freshly brewed tea with a view of Manhattan from 35 floor up, at no charge. Now that's hospitality!