There's a new stylish Spanish tapas place not to be missed. It's located around the corner from owners Jorge Guzman and Chef Mario Hernandez Mexican Temerario in Chelsea. Both from Handshake Hospitality,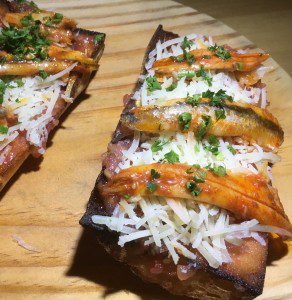 who also own the Black Ant.
I was invited to sample their tapas.
The intimate atmosphere reminded me of the small Spanish places in Barcelona, and the small savory dishes are as good. We started with a non-menu item from the chef — scampi with chimichurri flavored with black squid ink.
Next, their flavorful pintxos (small snack) of boquerones (white anchovies) atop Catalan tomato bread with shredded Manchego cheese ($6). A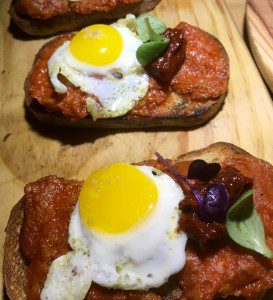 perfect combo of salt, crisp and fat! The sobrassada ($8), a chorizo paste comes spread on the same bread, topped with fried quail eggs and pickled peppers.
Loved the smoky flavor of the berenjena, eggplant spread, with clover honey ($9). It came with mini (unnecessary) crackers; we much preferred it as is or on the accompanying bread.
The chef added a sprinkling too much salt to the classic dish of potatoes brava; otherwise they would have been addicting topped with the spicy creamy salsa.
Don't miss the tender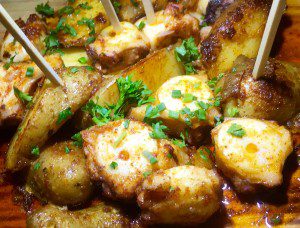 oxtail-stuffed piquillo pepper ($16), or the tender beer-poached octopus with fingerling potatoes ($10). Both perfection!
Also good are the garlicky shrimp with guindilla peppers ($16). Having just returned from Cuba where the garlic was so mild that I thought they had forgotten to add it, this was just right for a garlic lover like me.
The only disappointment is the peach dessert as the stone fruit was anything but ripe. It needed much longer poaching. The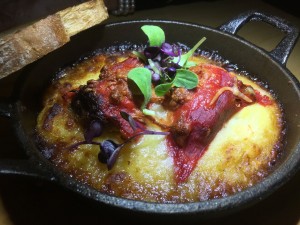 goat cheese mousse with it though is delectable ($10).
Lamano is worth a trip to Chelsea.
– bonnie
Follow @biteofthebest
BonnieBOTB
Follow @BonnieBOTB
Lamano
Chelsea
265 West 20th Street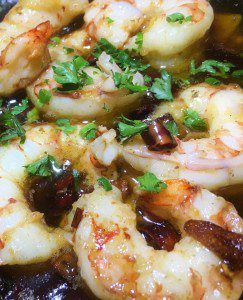 (at 8th Avenue)
New York, New York
(212) 741-2398

Save