A group of us ate at Lafayette, where I have enjoyed many good meals, as it was close to the Merchant's House where we were heading for a special production of "A Christmas Carol."
If you're not familiar, the Merchant's House Museum is New York City's only family home preserved intact — both inside and out — from the 19th century. It's complete with the family's original furnishings and personal possessions, including clothing. During the holidays, they offer a one-act one-performer production of this Charles Dickens classic.
Because I was with a large group, I didn't photograph as many dishes as usual. Sharing what I did take.
The handmade Pain de Campagne, baked daily on premises, is addictive with the exceptionally chewy crust.  For wine, we shared two fab bottles – Domaine Vacheron Sancerre 2017 ($105) and the Bruno Colin Bourgogne Blanc 2014 ($92).
I started with a wonderful multi-colored roasted beet salad with pomegranate arils, pistachios and mâche very lightly dressed with a za'atar dressing ($20). I'd go back just for that. Another near me had the tuna tartare Niçoise with haricots verts, radishes in a tonnato sauce ($26).
I chose the hearty  "Duck-Duck-DUCK" spaghetti bolognese ($30), made with duck breast, confit duck leg and duck liver mousse. Rich is an understatement!  I took a bite of the much lighter Oxtail bourguignon ravioli that was also heavenly and of the peppery brisket burger with mushroom duxelles and comté cheese, accompanied by French fries ($25).
Having no time for dessert, they gave us a box of their irresistible macarons as we dressed to head to the show.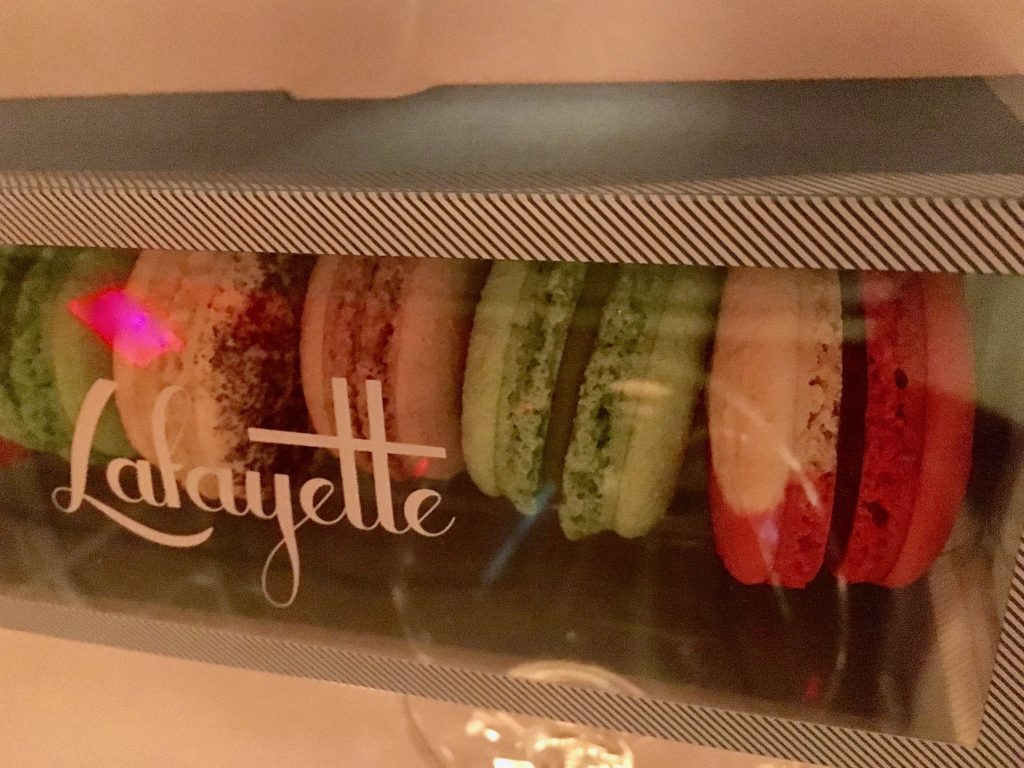 Lafayette
NoHo
380 Lafayette Street
New York, NY 10003
(212) 533 3000