Upon arrival in Italy after checking into Corte D'Aibo, Monteveglio, owner-winemaker Antonio C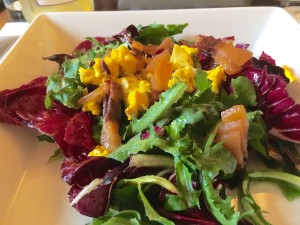 apelli suggested we go out for lunch to an enotoca con cucina La Zaira in Valsamoggia (Emilia Romagna) Italy short drive from the farmhouse.
We started with a small salad of streccapogn (wild chicory) with scrambled egg, baby onion, crisp pieces of wild pork cheek drizzled with balsamic vinegar and served with a basket of warm tigella, round flat bread that originated from the Apennines in Emilia Romagna region, Northern Italy).  With that we sipped an Orsi Vigneto San Vito, a pignoletto frizzante..
Since I couldn't decide which pasta to have, owner Belinda Cuniberti offered us smaller portions of three different amazing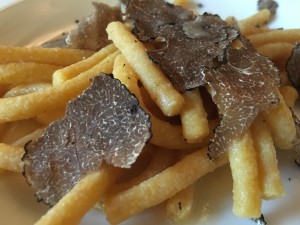 pastas. The first — Passatelli asciutti con tartufo nero Scorzone (14 €) —  a "pasta" made with half Parmesan, half bread and eggs seasoned with mace, cooked in broth and tossed with Scozonne black truffles.
Next the traditional tortellini of the area, served in broth and filled with pork, mortadella, prosciutto di parma, parmigiana reggiano and egg (12 €); followed by tagliatelle with a Bolognese sauce (11 €)
To end, homemade vanilla ice cream with a few drops of balsamic vinegar from Modena.  If you find yourself anywhere in Emilia Romagna area I highly suggest you go out of your way to find La Zaira.
– bonnie
BonnieBOTB
Follow @BonnieBOTB

La Zaira
Enotoca Con Cucina
Via Borghetto di Sotto 6
Valsamoggia, Italy