One Saturday recently, I wanted to meet friends for brunch in the theatre district as I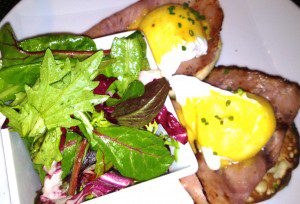 had front row orchestra seats to see the amazing Audra McDonald in Gershwin's Porky & Bess at the Richard Rogers Theatre (226 W. 46th Street). I've sat in the orchestra before — but never this close as I could literally reach out and touch the conductor (who I ended up chatting with at the end of the performance!) and could see into the orchestra pit. Try to catch this great American musical.
As for brunch, a friend recommended La Silhouette, with the caveat that she'd only experienced dinner there, but knew they served brunch.
We started with delicious and reasonably priced mimosas ($8) and bloody Mary's ($8). I ordered the West Side Eggs poached and Bacon ($14) that came with housemade — a bit dried out — sausage and room temperature home fries begging for salt.
My friends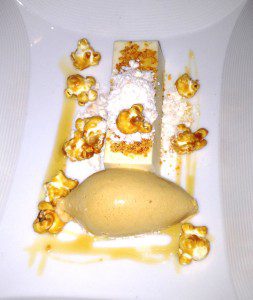 were much more pleased than I with their Eggs Benedict with smoked ham, topped with Hollandaise sauce and served with a side of mixed greens ($14); and the mushroom & spinach omelet with gruyere cheese and home fries ($13). Oddly no toast served.
But they did serve Happy Ending ($8). Some one at our table ordered — and devoured — both the Devils cake ice cream sundae and the popcorn creme brulee with salty caramel ice cream.
Brunch was fine, nothing exceptional. I'll be sure to return again, but this time for  a pre-show dinner.
– bonnie
Follow @BonnieBOTB
La Silhouette
362 West 53rd Street New York, NY 10019
la-silhouettenyc.com/
(212) 581-2400