I'm always trying restaurants around the theatre district when seeing something on Broadway, as people habitually ask where to dine before curtain time.
Recently I ate at La Rivage on 46th Street, before heading to the Booth Theater (222 West 45th Street, 212.239.6200) to Jon Robin Baitz's Other Desert Cities. The cast of Stockard Channing, St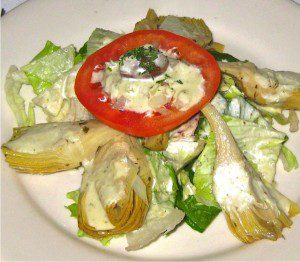 acy Keach, Rachel Griffiths, Judith Light and Thomas Sadoski work as an perfectly oiled ensemble in this not-to-be-missed riveting play.
The vintage-1958 French restaurant La Rivage offers a prix-fix lunch. The $25 three-course menu, including coffee, is a bargain with decent food and attentive service. The food is nothing to rave about, but is just fine. I only wish they used a lighter hand on their sauces and dressing.
I started with with a  a green salad with marinated artichoke hearts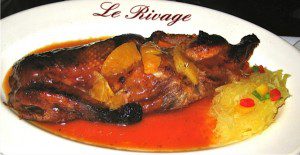 a bit drowning in dressing. I selected what seemed to have the least sauce: the tilapia meuniere as it was "finished with a touch of red wine sauce."  I  should have requested the fish sans the sauce – or on the side!
My dining partner was happy with the half  roasted duck "Bigarade" with sweet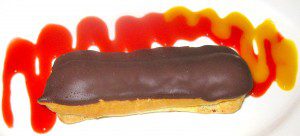 orange sauce with some Triple Sec (A $3 upcharge), served with spaghetti squash — and with the chocolate eclair for dessert. Both are great if you have a sweet tooth.
Me? I chose the fresh and very flavorful strawberries.
La Rivage is fine for a quick serviceable meal pre-theatre.
– bonnie
Follow @BonnieBOTB
Le Rivage
340 W 46th St
New York, NY 10036
(212) 765-7374
www.lerivagenyc.com