Before heading to Peru this winter, I — like a typical food professional — researched restaurants where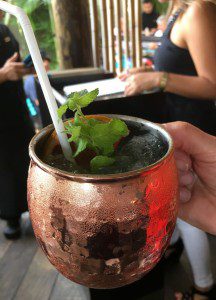 I wanted to dine. Word had it that the country has some of the best in the world.
The Latin American's 50 Best Restaurants for 2016 lists Andrés Rodríguez's La Mar as the 12th best, featuring ceviche along with fresh, sustainable Peruvian fare.
I went there to lunch one day, going a bit late to try to avoid the crowds since it's a "no res" place. Wrong. There were lines out the door, yet the friendly hostess explained for two, we'd only have a 30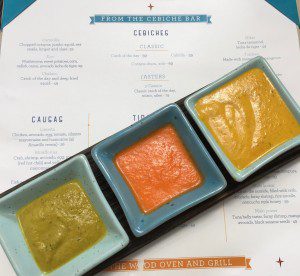 minute wait.
With drinks offered while we anticipated lunch, we skipped the classic pisco sour (having sampled too many while in Peru) for a refreshing Moscow mule (~$9).
Once we were seated (in much less time than we were told), we nibbled on their fresh plantain chips with three flavorful yellow, red and green chili-based sauces while deciding what to order.
We selected an Argentinian torrontes (Kaiken) to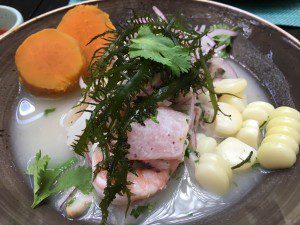 accompany our food (~$40). Trying to have a variety of seafood, we shared the ceviche mixto of fresh fish and seafood with tigers milk and chilies (~$15) along with classic Peruvian corn and some other veggies. Refreshingly good.
And then the amazingly tender plancha anticuchera ($21), wood-fired octopus and squid in an antichera sauce. Perfection — as was the friendly service.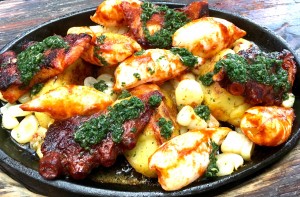 If Lima is in your travel plans, do not miss a visit to La Mar.
– bonnie
BonnieBOTB
Follow @BonnieBOTB

La Mar
Av Mariscal La Mar 770
Miraflores 15074
Lima, Peru
Save
Save
Save
Save