We had decided to sit outside at La Loteria on Seventh Avenue in the West Village until
we learned that happy hour drinks and food were only available in the bar area. We moved inside,  ordered their classic margarita ($7) and indulged in their delicious and beautifully presented inexpensive antojitos ($5 to 6).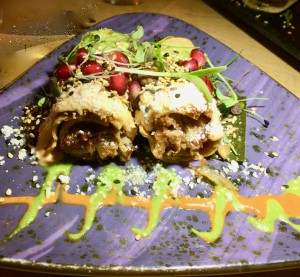 We first ordered the Tostaditas de Atun, three to a portion, with chile-rubbed pan-seared tuna on flour tostadas topped with guacamole, chipotle aioli and a mango salsa. Next, the not to be missed Flautitas de Pato en Trilogía de Salsas, two crispy corn tortillas filled with shredded duck confit, corn and caramelized onions, topped with pomegranate arils and served with three salsas: avocado-tomatillo, mole poblano and chipotle aioli.
Also good were the De flor de Calabaza y Huitlacoche, corn masa empanadas with squash blossoms, devil corn and Chihuahua cheese with a yellow bell pepper coulis topped with cotija cheese.  And two tacos ($5 each) one the De Fideo de cantina, highly recommended by our friendly server, filled with bird's nest pasta, Mexico style chorizo, avocado, cotija cheese, Mexican cream and tomato-jalapeño cumin paste;  the other de pollo with chicken chicharron, guacamole, cotija cheese, grilled pineapple and a chipotle aioli.
I'd recommend a special trip to the West Village just to enjoy happy hour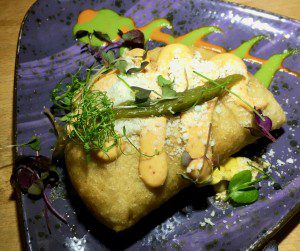 at La Loteria. Yes, that good.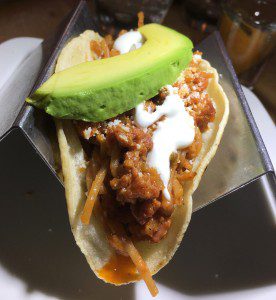 – bonnie
La Loteria
West Village
29 7th Avenue South,
New York, NY 10014