Most everyone I spoke to who had been to Havana recently recommended the upscale paladar La Guarida for dinner — the place where Cuban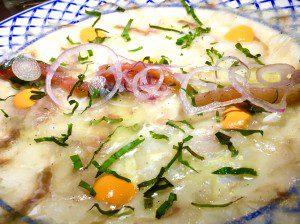 director Tomás Gutiérrez Alea filmed Strawberry & Chocolate. It's one of the few places offering elegantly served quality food; we learned they send their chef to France to learn to cook.
We walked up the crumbling grand staircase to the restaurant above and — since it was raining —  skipped the new rooftop bar. Our starters from the varied menu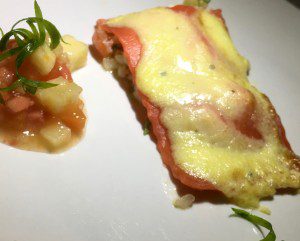 included thin slices of fresh snapper carpaccio with a pepper sauce and citrus vinaigrette ($8), an unusual seafood "lasagna"with "noodles" of thinly sliced papaya garnished with citrus and a beautifully presented eggplant caviar in a tomato coulis.
We had just been served our entrees of suckling pig with orange honey reduction ($18) and three tenderloin ($22) each with a different topping —  blue cheese, green pepper and bearnaise — when a group of noisy young folks were seated across the way. The waiter took our under-cooked meat (it was raw, not medium) back to finish cooking. By this time, the laughs, shouts and screams from the young entitled man (he spoke loudly about this year's vintage wine) with his four even younger women (his concubines?) disrupted the dining room as they continued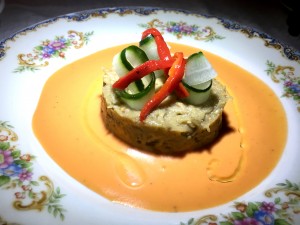 to chug shooters. That noise was so bad, that when the restaurant tried to seat other parties in the room, they refused. Had we not been served our entrees, we would have moved too, as we were unable to talk over their boisterousness.
What was most disturbing was that the manager had no control of the situation. He did nothing about their deafening disruption ruining his other patron's meals, nor the fact that his other customers refused to be seated in that room. He didn't ask them to tone it down; nor did he apologize to any of us. A man in need of management training for sure!
We finished our meal with a deconstructed almond "lemon pie" ($8), their housemade chocolate and vanilla ice cream ($4) and a headache from the pandemonium.
If you go, keep in mind that currently American-based credit cards are not accepted; some places accept European ones. You'll need cash.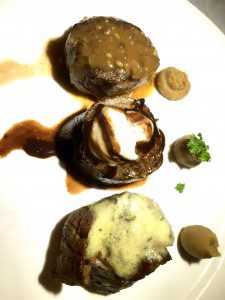 And be sure to make a reservation.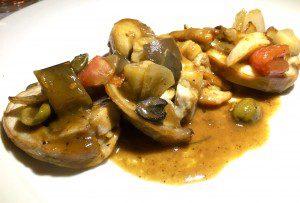 – bonnie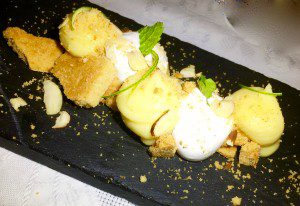 BonnieBOTB
Follow @BonnieBOTB
La Guarida
Concordia No.418 /Gervasio y Escobar
Centro Habana
Ciudad de la Habana, Cuba
Save
Save
Save
Save