La Cocina Pepina, Cartagena's hard-to-find Carib-Colombian restaurant in the lively and funky Getsemani neighborhood, is worth the hunt. Blending in to the colorful street with a bright yellow facade,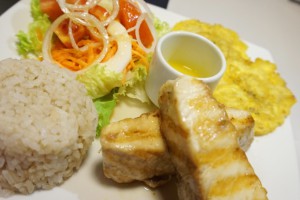 the restaurant's interior is relaxed with rustic and traditional decor.
Cartagena is known to have a booming culinary scene with Caribbean and international fare that can rival any American metropolis. This restaurant is no exception.
The outstanding appetizer of camarones en aguacate (22,000 pesos/$8.52) is a flavorful and fresh medley of sautéed shrimp, avocado, tomato, red and green pepper, finely chopped onion, cilantro and lime. The perfect starter on a hot afternoon.
The dorado asado (29,000 pesos/$11.24) is the dish I still dream about—thick and juicy cuts of tender, grilled mahi mahi served with perfectly sweet coconut rice, a side salad with mildly sweet dressing and thin, crispy lightly salted patacones.
While the service is not exceptional, the food is and the staff is helpful in providing English translations of the dishes.
La Cocina Pepina
Callejon Vargas Entre Arsenal y Calle Larga Getsemani, Calle 25#9a-06 Local 2 Casa Amarilla
Cartagena, Colombia