While the touristy beach town of Tamarindo offers a plethora of international options from Mexican to Israeli, it's La Bodega, the small and unassuming cafe off the main road that packs some of the most impressive flavors in town. The friendly service and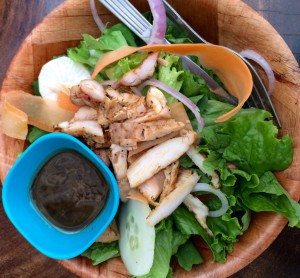 relaxed atmosphere are an added bonus to the daily specials (all local and organic) like Greek chicken salad, fresh fruit smoothies and tasty breakfast dishes.
The omelet filled with fluffy eggs, queso fresco, bacon, onions, tomato, green peppers and basil (2500 col/$4.70) is flavorful perfection. The iced coffee from Terrazu, known as the Napa valley of Costa Rican coffee is top notch and refreshing. There's even an option for those New Yorkers craving a taste of home: a delectable Costa Rican version of a bagel and lox (3000 col/$5.61) but with trout and goat cheese on a homemade roll. And the daily fresh fruit smoothie of papaya, watermelon, pineapple and banana combined with peanut butter, Greek yogurt and chia seeds is rich and creamy enough to be a meal in itself.
Whether coming in for breakfast or lunch, La Bodega is an obligatory stop to fuel up between surfing sessions.
La Bodega
Tamarindo, Costa Rica
Telephone: (+506) 8829-1480
http://labodegatamarindo.com/