At about 3 pm, we were almost to the coast of Oregon looking on line for someplace to eat. Kyllo's Seafood & Grill seemed to have the best online rankings we could find via our iPhones when a couple miles from the coast.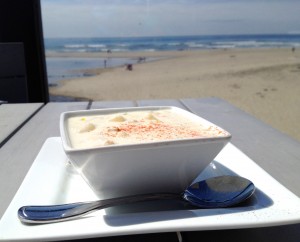 We booked it.
The location on the deck overlooking the Pacific ocean and beach was beautiful. We quickly ordered a few things to curb our hunger while we looked over the menu. 
The creamy fresh clam chowder ($4 a cup) was one of the best things that meal. Not as good were the greasy and bready Kyllo's crabcake served in a puddle of red bell pepper sauce ($12), nor the overcooked crisp calamari ($9.75). We left most of both.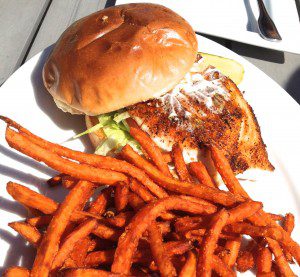 What was flavorful — but plated barren of any sort of garnish — were the boneless Dungeness crab legs ($22 a luncheon portion) served drawn butter and garlic bread. The grilled halibut sandwich ($18) was fine — nothing to rave about — served on a potato bun, along with sweet potato fries (+$2.00) in lieu of regular. Also okay was the lightly breaded north Pacific center-cut halibut fish and chips ($24) served with greasy French fries and cole slaw.
All food was okay, nothing I'd go out of my way to try – that is unless you just wanted to sit on an outside deck and enjoy the sunny view.
– bonnie
Kyllo's Seafood & Grill
Lincoln City
1110 NW 1st Ct
Lincoln City, OR 97367
(541) 994-3179