Kristine Kidd — who was food editor of Bon Appetit for 20 years — just released her newest cookbook Weeknight Gluten Free, a sequel to her best-selling Weeknight Fresh & Fast. Kristine's childhood celiac disease resurfaced recently, and she spent a year experimenting in her kitchen before writing this book. This beautiful full-color book contains over 100 of her favorite naturally gluten-free recipes, emphasizing quick, flavor-packed inventive dishes based on seasonal fresh produce.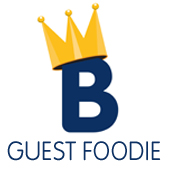 Weeknight Gluten Free contains mouth-watering photographs — ones so inspirational that they made me want to stop reading and head to the kitchen to cook, even though I don't need gluten-free foods. Yes, it's that gorgeous and creative. It's also chock-full of strategies and tips for a gluten-free lifestyle.
In addition to writing cookbooks, Kristine is the food editor for the Monterey Bay Aquarium's Seafood Watch website, helping people learn to cook sustainable seafood.
Kristine and I served together on the board of the International Associate of Culinary Professionals (IACP) for many years. She lives in California with her husband, Steve Peck, and their adorable dog, Atticus Finch.
I recently caught up with Kristine to get her responses to the Bite of the Best guest foodie questions. Here are her responses.
Which specific food product, ingredient or gadget would you never give up?  I use my ceramic Kyocera knives every day. I love their precision for fine work like cutting shallots and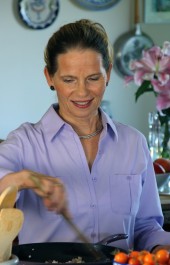 fresh herbs. I have a large herb garden and use lots of fresh herbs in my cooking.
What do you like to serve when you entertain?  I love to grill Alaskan salmon for our parties in the summer. We eat only sustainable seafood, and any seafood from Alaska is delicious. I get a half salmon, brush it with olive oil, and sprinkle with salt, pepper, and fresh herbs. I add alder-wood chips to our gas barbecue grill, cover and then cook without turning until the fish is just springy to the touch and the skin is crispy. I usually serve it with a salsa verde with diced avocado mixed in or a fresh peach salsa.
Describe your "last meal?"  The meal would be on the deck of a cabin in Mineral King, at 7,000 feet in the high Sierras, watching the sun set on the majestic mountains. My husband, his son, his son's girlfriend, and my gal pals would be there. Hopefully a few deer and a bear would visit. We'd feast on Rick Bayless's turkey in mole poblano. This is one of my favorite dishes. It takes 3 days to make, so I don't cook it frequently. There would be guacamole to start and homemade corn tortillas to accompany the mole. To end, farmers' market peaches with a sauce made from whipped cream, brown sugar, and vanilla.
What food is your secret guilty pleasure?  Dark chocolate. I eat the recommended 1 ounce every day for health, and then an extra ounce, just to be safe.
What is your go-to, neighborhood restaurant?  Farmshop at the Brentwood Country Mart, for California/French cuisine. The menu is inspired by farmers' market ingredients and the food is always fresh and perfectly cooked. The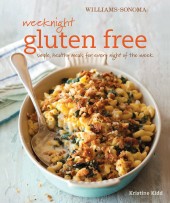 dishes are imaginative and give me great ideas for my own cooking. And, I have never had trouble eating gluten free there (my childhood celiac disease resurfaced a few years ago). There is always a wonderful meringue dessert on the menu, so I can safely end the meal with a luscious gluten-free treat.
What is one food product most people don't know about, but should…?  Bob's Red Mill Gluten-Free Cornmeal: It is stone ground, whole grain, and very flavorful. I use it for a creamy microwave polenta, gluten-free pizza-like crusts, and a great gluten-free cornbread. Recipes are in my new book, Weeknight Gluten Free.
Click here for Kristine's website, twitter and facebook pages.
– bonnie