I'm a mom first. So when my friend asked me to come try her son's latest restaurant, I headed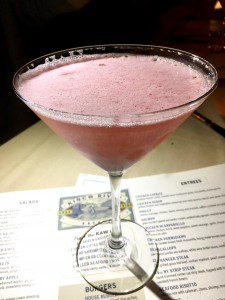 north to Mount Kisco to dine at Bobby Epstein's newest restaurant, Kisco River Eatery. I was so glad I did. (Bobby is also the owner of Muscoot Tavern in Katonah.)
I began with an icy cosmo ($10), served up in a martini glass along with their fabulous appetizers. I'm a big fan of apps, often preferring to have only those and skip the entree as the starters are so much more creative. Kisco River's didn't disappoint.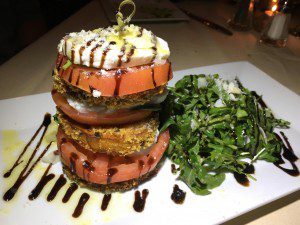 They included a white truffle flatbread topped with spinach, provolone and ricotta ($9); a stack of crispy panko-coated eggplant, sliced tomatoes and mozzarella with a side of lightly dressed arugula drizzled with a balsamic glaze($13); and their not-to-be missed housemade burrata ($12) with fig jam,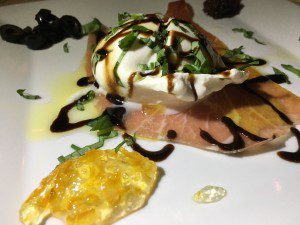 prosciutto and roasted peppers. Be sure to ask for an order of their garlic bread ($3.50)!
I was able to try many of the entrees, getting tastes of other dishes from around the table. The slow-roasted danish baby back ribs with house made bbq sauce were so tender they fell off the bone ($22). The char grilled house smokehouse burger, made with their custom tri-blended ground beef topped with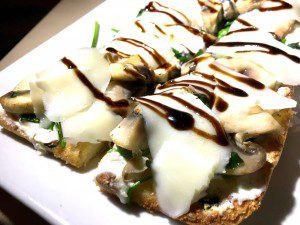 bacon, cheddar cheese, caramelized onions and BBQ sauce, served with freshly made french fries ($14) came cooked to perfection. We had an additional side of the addicting fries ($6) and some Brussels sprouts and bacon ($6). The five pan-seared jumbo sea scallops in a white wine butter sauce came with sautéed baby spinach and mashed potatoes ($26).
We had to also indulged in the housemade desserts.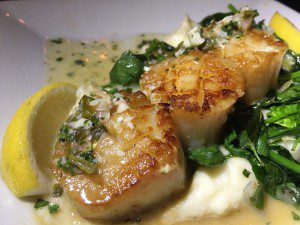 We all shared  two. I'd recommend either of them —  the crèmes brûlée or tiramisu ($7 each) when you go!
– bonnie
BonnieBOTB
Follow @BonnieBOTB
Kisco River Eatery
222 East River Street
Mount Kisco, NY 10549
914.218.3877

Save