With a prix fixe lunch menu at Kin Shop in the West Village of $20, how could we resist?  That and that the entrees we were ordering cost about that!
We shared the palate cleansing red leaf & blood orange salad with cashews, rice pearls in a light coconut vinaigrette and a stir-fry of water spinach, water chestnuts and watercress.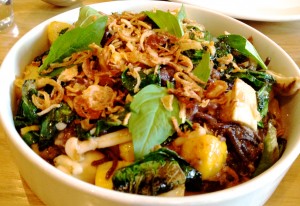 Our black rice noodles came with baby bok choy (choy sum), small white long stem mushrooms (hon-shimeji) and chunks of pattypan squash in a fermented plum sauce. Also tasty was the braised skate and calamari with more of the baby bok choy,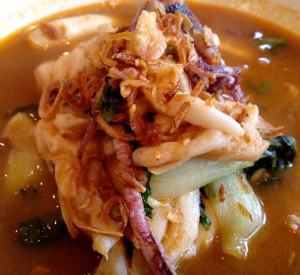 pickled green peppercorns and some crab paste in a spicy broth. Not for the timid palate.  Oddly we were charged $3 for a bowl of white rice to sop up the spicy sauce!
For dessert, we opted for a scoops of their sorbets wanting to try the calamansi (a fruit native to the Philippines with an orange-lime flavor) and the galangal (a plant related to ginger). They accidentally scooped up the lychee one… Lucky us, as we ended up with all three refreshing ices.
I recommend  a visit to Kin Shop, especially for the prix fixe lunch!
Kin Shop
469 6th Avenue
New York, NY 10011
212.675.4295
www.kinshopnyc.com/