Next time you're in the city, I suggest heading to the heart of NoLita to dine at Ken & Cook located at 19 Kenmare Street. Everything I sampled had me wanting for more. The restaurant is the inspiration of Jean Georges alumnus Artan Gjoni and Chef Richard Diamonte.
We started with the thyme-seasoned grilled squid. The tender smoky morsels were atop mint and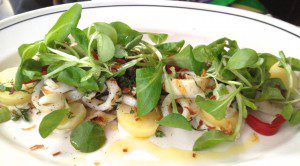 chili flavored yogurt ($17) topped with fresh watercress and pickled Fresno chilies. Not to be missed. Also worth trying are the five fried oysters, first rolled in house made seasoned  bread crumbs then fried and served with a spicy lemony remoulade made so with siracha, lemon, garlic confit, shallots and sweet pickle ($16).
What could have been a meal in itself is the rich papparedelle with roasted
tomatoes, raddicchio that added a bit of bitterness and veal from a braised breast ($24). The full-flavored sauce comes from the cooked down veal braising liquid.
Also not to be missed are the large bowl of clams and mostly mussels, smoky from the sauce containing tomatoes roasted over hickory chips imparting their smoky flavor to the mollusks ($24). The rest of the sauce contains a bit of guanciale, some herbs and white wine sauce. Wonderful.
Since we were guests of the restaurant, we continued to sample the menu although we were pretty full and happily satiated from what we had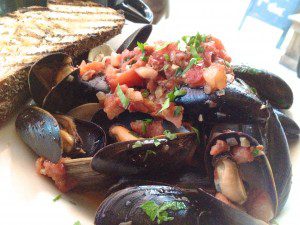 so far sampled.
We did enjoy the tender crispy-skinned red snapper with crispy skin with baby carrots, carrot puree and swiss chard ($ 29). Also tender and moist was the crispy-skinned salmon served with creamy cauliflower puree and sauteed mushrooms, all flavored with meyer lemon to give it the extra zest ($26). Delightful.
For dessert we sampled the flavorful local rhubarb crisp with strawberries flavored with a splash of orange liqueur and an almond-brown sugar crumb topping ($9) and thericotta beignets —freshly fried and tossed with powdered sugar —  with a blueberry lavender dipping sauce ($9).
Word has it there'll be a special prix fixe menu for father's day. Be sure to check with the restaurantfor details.
Ken & Cook
19 Kenmare St
New York, NY 10012
Nolita
(212) 966-3058