Karen Page is a prolific writer, who has penned many award-winning books with her husband Andrew Dorenburg, including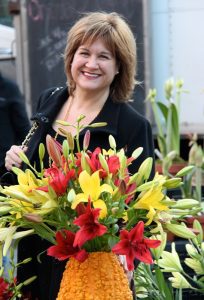 Becoming a Chef, The Food Lover's Guide to Wine and The Flavor Bible. Forbes magazine named the latter "one of the 10 best cookbooks in the world of the past century."

Karen's most recent book, The Vegetarian Flavor Bible (October 2014) has already received much acclaim. It appeared on many of 2014's best lists, specifically Bloomberg's Peter Elliot (Top 5),  Chicago Tribune (Top 10), The Globe & Mail (Top 20) and Food & Wine (Top 40). Andrew Dornenburg provided the photographs for this book.
Karen and I know each other mainly from Les Dames d'Escoffier, a philanthropic society of professional women leaders in the food, wine and hospitality industry, as we were inducted together. I caught up with her recently and asked her to respond to BiteoftheBest.com's Guest Foodie questions.
– bonnie


Follow @BonnieBOTB
Which food product or gadget would you never give up? In our refrigerator at home, you'll always but always find Champagne and hummus (which we love on "toasted scooped whole wheat everything" bagels in the morning, and on whole-grain flatbread with tabbouli as an afternoon snack).
The seasoning that turns over most quickly on our spice rack is smoked paprika. Now that Andrew and I have been eating vegetarian since May 2012 (initially as research for our latest book The Vegetarian Flavor Bible), it's especially important for adding smoky richness to everything from split-pea soup to braised legumes.
And after putting off buying it for several years when we found it was the price of a used car, I don't know how we ever lived without our Vitamix, which we love for making everything from smoothies to soups and sauces!
What do you like to serve when you entertain?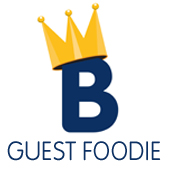 The most important thing about entertaining is spending time at the table — not in the kitchen. At this time of year in Manhattan, the Greenmarket is filled with squash, sweet potatoes, root vegetables, and other heartier vegetables. A good way to showcase them is to serve an entrée of roasted halved acorn squash filled with mushroom risotto seasoned with sage or rosemary. It is as beautiful to serve as it is delicious to eat. The squash and risotto can be cooked in advance, so it is a dish that just need re-heating and seasoning at the last minute.
Another of my favorite dishes is a vegetarian version of a pork dish Andrew and I fell in love with at the winery Bodegas Fariña in the Toro region of Spain. The original dish called for pork ribs marinated in Spanish smoked paprika, dried oregano, cumin, bay leaf, and fresh parsley, stewed with potatoes that have been coarsely broken up. (You can find the original recipe in Penelope Casas' cookbook La Cocina de Mama.) Now, instead of the ribs, we substitute Portobello mushrooms, and find we love the dish just as much. For dessert, you can't go wrong with baked apples or poached pears – or fresh fruit served with a dark chocolate fondue for dipping. BTW, serving chocolate is a delicious code for letting guests know that the end of the dinner party is nigh!
Describe your "last meal?" Sorry – I'm always too busy looking forward to my next meal to ever waste time contemplating my last!
What food is your secret guilty pleasure? I've been trying to eat more healthfully the past few years. The Vegetarian Flavor Bible actually features color-coded dots indicating the nutrient density of various ingredients – from dark green and green dots (for fresh vegetables and fruits, which I allow myself lots of) to red dots (for oils, fats, and sugars, which I try to minimize). The "red-dot food" I still enjoy from time to time is hot, fresh, oil-popped caramel corn from Garrett's Popcorn in Chicago. It's one of the few things I'm willing to stand in line for – and it's good news / bad news that there's now a location at O'Hare. But at least I no longer kid myself that it has any nutritional value (other than fiber), so I eat a lot less of it than I used to!
What is your go-to neighborhood restaurant? Andrew and I love El Parador on East 34th Street between Second and First Avenues in Manhattan. It just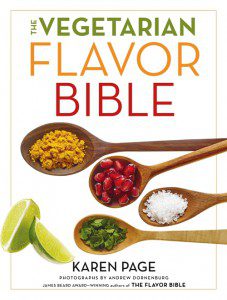 celebrated its 55th anniversary in 2014, and was Craig Claiborne's favorite Mexican restaurant. I've long loved the chips and salsa there: There's a warm version made with chicken stock, but now I prefer the cold pico de gallo that is completely vegan. I also love their guacamole, the crazy peanut butter-filled jalapeños, and of course the margaritas (on the rocks, no salt). Andrew and I had been eating there for more than a decade by the time we informed them that we'd switched to a vegetarian diet, which is how we discovered that the restaurant even has its own wonderful vegetarian menu! Besides, how can you not love a restaurant whose motto is, "The answer is yes. What is your question?"
What is one food product most people don't know about, but should? If you're one of the majority (54%) of Americans looking to reduce (47%) or eliminate (7%) your consumption of animal protein, here's a great transitional product to know about: When Andrew and I first started eating vegetarian in May 2012, we'd sometimes crave the chewy texture of meat. While I'm not particularly crazy about meat analogs, I have to admit that I was happy to discover Field Roast grain-based sausages, whose texture is impressively close to the real thing. They are very versatile: The Italian version is flavored with fennel seeds and oregano, and works well in soups and pastas as well as on pizza. The Mexican version is a spicy chipotle version that's great in veg chili or a tofu scramble, or mixed with lentils and sautéed onions to fill taco shells. Field Roast also make a grain-based Celebration Roast that we enjoyed for Thanksgiving 2013, although we told so many people about it that we probably contributed to the fact that all the Whole Foods locations in Manhattan were completely sold out of it before Thanksgiving 2014.
Describe your worst kitchen disaster and how you saved it: Before we understood the concept of compatible flavors, Andrew and I would often throw together favorite flavors willy-nilly — very often successfully, but other times not so successfully. At some point in the late 1980s, there was an infamous batch of polenta that Andrew had flavored with goat cheese and cilantro – and it was so awful he had to call me into the kitchen to try to save it. We tried everything — salt, pepper, cream — but it was no use; we had to throw it away and go out for pizza. But it got us both thinking about how to know which flavors will go together, which eventually led us to develop our 140,000-plus copy bestseller Culinary Artistry (1996), our 300,000-plus copy global bestseller The Flavor Bible  (2008), and our latest book The Vegetarian Flavor Bible (2014) – so it was a "disaster" we ended up learning from that eventually "saved" US by directing the primary focus of our gastronomic attention and research.
Who was your most influential mentor? My most influential role model growing up was the actress Susan Dey, whom I idolized both in her roles as big sister Laurie Partridge on "The Partridge Family" and as legal professional Grace Van Owen on "LA Law." It's an honor to be able to call her a close friend of mine today.
In the food world, Andrew and I had our lives forever changed by the chefs who allowed us to interview them for our first book Becoming a Chef  (1995) and were willing to share their lives with two unknown aspiring authors. We were both profoundly moved by their stories and insights and warm hospitality, which made us want to study them even more deeply.
To follow Karen Page, click here.