Junoon — derived from the Hindi word meaning passion — is a one-Michelin star restaurant in Chelsea with an authentic, yet elegantly, modern take on Indian cuisine featuring the five elements of Indian cooking: Handi (pot cooking), Sigri (open fire pit), Pathar (stone), Tawa (griddle) and Tandoor (clay oven).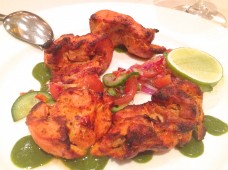 I was a guest of the restaurants recently, first getting a tour of the two distinct dining rooms, and the spice room on the lower level where each  day the spices are measured, roasted and ground into various blends for Junoon's marinades and sauces.
The Sancerre, Domaine des Charmilles from the Loire, France 2010 ($14) matched nicely with our first three courses. Lahsooni Gobi, crispy florets of cauliflower lightly battered with all-purpose flour, seasoned with spices — including chili flakes to give it a little kick — and crispy fried. Don't miss this amazing dish that's served along with a homemade garlic tomato chutney ($12).  Also delicious is the Salmon Tikki  with farm-raised  salmon, marinated for 5 to 6 hours in yogurt flavored with ginger, garlic, three different ground peppers and some other spices. It's then skewered and cooked in tandoori oven and served with fresh salad with a refre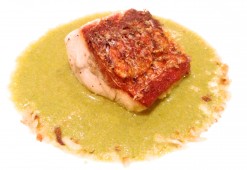 shing lemonly dressing. The Murg Tikka Mirza Hasnu  (also known as chicken tikka) consists of boneless dark meat chicken marinated for 12 hours in yogurt seasoned with Junoon's garam masala, then cooked in the tandoori oven. The chicken served over heirloom tomatoes, cucumber and diced onion and drizzled with a mint, cilantro and green chile chutney ($14). We also shared a dish of thin raita, yogurt with roasted cumin, fresh mint, Persian cucumber and pomegranate arils ($6).
A glass of the Casas del B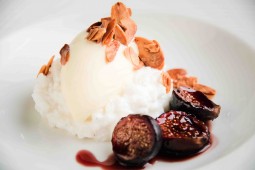 osque Reserva Sauvignon Blanc from the Casablanca Valley in Chile ' 12 ($12)  accompanied the Wild Striped Bass Malvan, seared on the griddle (tawa) wild striped bass with a sauce of fresh coconut, green chilies and cilantro ($34). Perfection.
A glass of Mettler Family Vineyards, California Cabernet Sauvignon, '09 ($16) went nicely with the Masaledar lamb chops. These chops were the only disappointment, as I found the texture soft and some-what mushy. I learned the chops are first marinated for hours, then cooked in the tandoori oven — which should have somewhat crisped the outside, but sadly didn't. With the lamb came curry confit potatoes and anardana-brown butter sauce ($38).
Dessert Indian-style consisted of a seasonal trio of kulfi — cardamom, pomegranate and paan (betel leaves). Kulfi is the Indian version of ice cream made without eggs. And rice pudding: Egyptian rice cooked in coconut milk served with ginger ice cream, toasted almonds and fresh dates.  They ended the mean with an offering of coconut chocolates (think mini-house made Mounds) and passion fruit jelly.
– bonnie
Follow @BonnieBOTB
Junoon
27 West 24th Street
New York, NY  10010
(212) 490-2100
www.junoonnyc.com