"Anything toast," said my friend who had just been when I mentioned I was heading to Jones Wood Foundry. I wasn't sure what she meant until I saw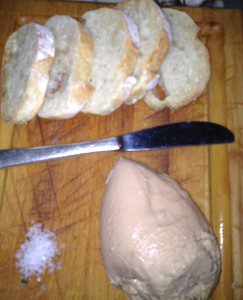 the Toast menu at this pub, listing small plates of various goodies served with toast. Think traditional British foods with an American twist.
From that menu, we sampled the Scotch egg ($9; a hard-cooked egg, enclosed in sausage, rolled in breadcrumbs and deep fried), potted crab ($11) and the ultimate, not-to-be missed, truly orgasmic foie gras, chicken liver mouse whipped with butter (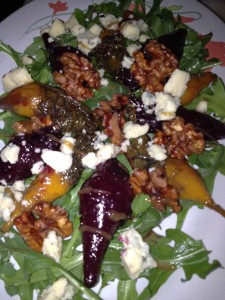 $11). Can you tell I loved the latter?
Chef partner Jason Hicks stopped by to say hello while I had  a mouthful of the yummy chicken liver and foie gras "toast," I pointed to my mouth with my eyes open wide and to the plate. He smiled and waited for me to enjoy every morsel of it before speaking.
Also tasty were the mini golden and red beet salad with Stilton and candied walnuts.
The Stilton on that salad was so delicious that my dining partner opted to change the cheese he o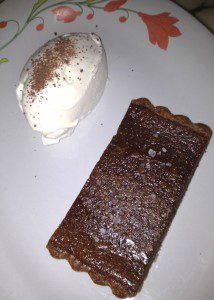 rdered on his JFW Burger ($18) "Debragga Dry Aged Blend" from Swiss to Stilton!
I sampled the beer-battered fresh cod with chips ($22), which was sadly more batter than fish. The only disappointment.
I don't generally order dessert as I try to save those calories for my wine!, but when you're the guest of the restaurant  and the owner suggests it, you can't say no.
And I'm so glad we did.  The decadent milk chocolate and sea salt pie topped with chantilly cream was worth the trip.
– bonnie
Follow @BonnieBOTB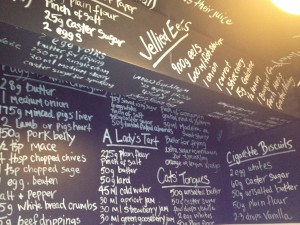 PS: When you go, be sure to  visit the restroom — their are two, head to the one to see the recipes on the wall. Seriously.
Jones Wood Foundry
401 E 76th St
(between First and York)
New York, NY 10021
212- 249-2700
joneswoodfoundry.com