"Josephine and I" is a one-woman show starring the fabulous Cush Jumb at The Public theatre in Joe's Pub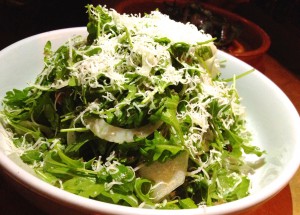 about the life of Josephine Baker. I don't want to ruin the play by sharing anything, but I'll say that I recommend it as it's that's utterly engrossing and fun.
I'm not as enthusiastic about the food. I'm being kind saying that the spinach, tomato and ricotta frittata ($16) was mediocre, as it was not only missing the menu-stated tomatoes, but also lacking any seasoning. Since we were in a dinner theatre and not a restaurant, neither salt or pepper was to be found.
What is worth eating is their hearty portion of arugula salad with sliced pear and walnuts topped with lots of parmigiana ($14).
– bonnie
Joe's Pub at The Public
425 Lafayette St
New York, NY
(212) 539-8778