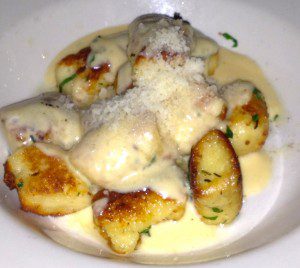 I revisited Jane in SOHO for dinner one night recently. We began with an unusual toasted gnocchi with an outside crunch – but delicate inside –  reminded me of crème brûlée, both with the cracking and soft treat inside. That came tossed in a white truffle cream sauce ($12). Their wasn't enough grilled octopus in that starter, but what was there was tender over marinated chickpeas all topped with a spicy fennel salad.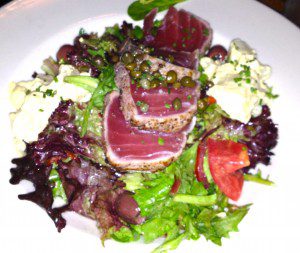 Jane's seafood is done right. The kitchen seared tuna in the salad niçoise properly, and served it over lots of greens along with roasted peppers, hard-cooked egg, olives and a soupçon of mayo-based Dijon potato salad ($21).
The large pot of plump mussels had simmered in a white-wine tomato sauce until plump and tender and came with heaping pile of shoestring fries ($19). Don't miss a side of — sauteed until caramelized — Brussels sprouts ($5). I – a lover of this veggie since childhood — am thrilled these tasty miniscule cabbages are finally being appreciated.
– bonnie

Jane
100 W Houston St Map
New York, NY 10012
(212) 254-7000
janerestaurant.com