When I read the bio of Chef/Partner Jamie Kenyon that the publicist sent me, I couldn't wait to dine at Bottino as their guest. I had learned that Chef Kenyon hails from Daniel, Bar Boulud, Manzo at Eataly, Perla, Lupa and La Sirina to name a few dining establishments where he left his mark.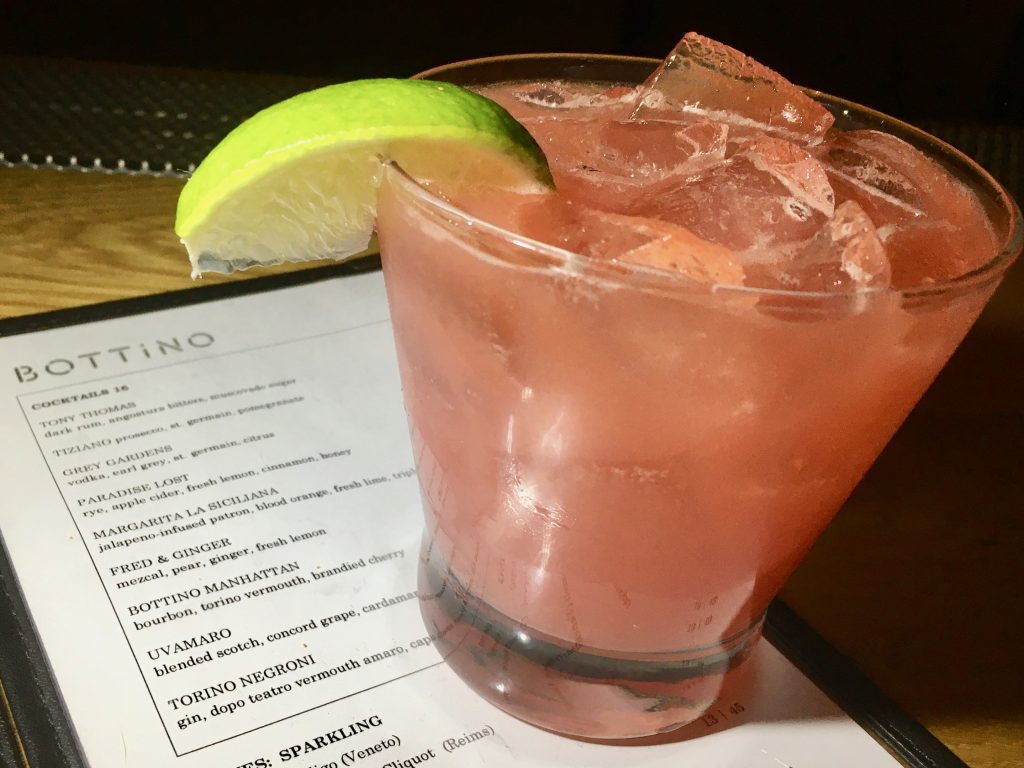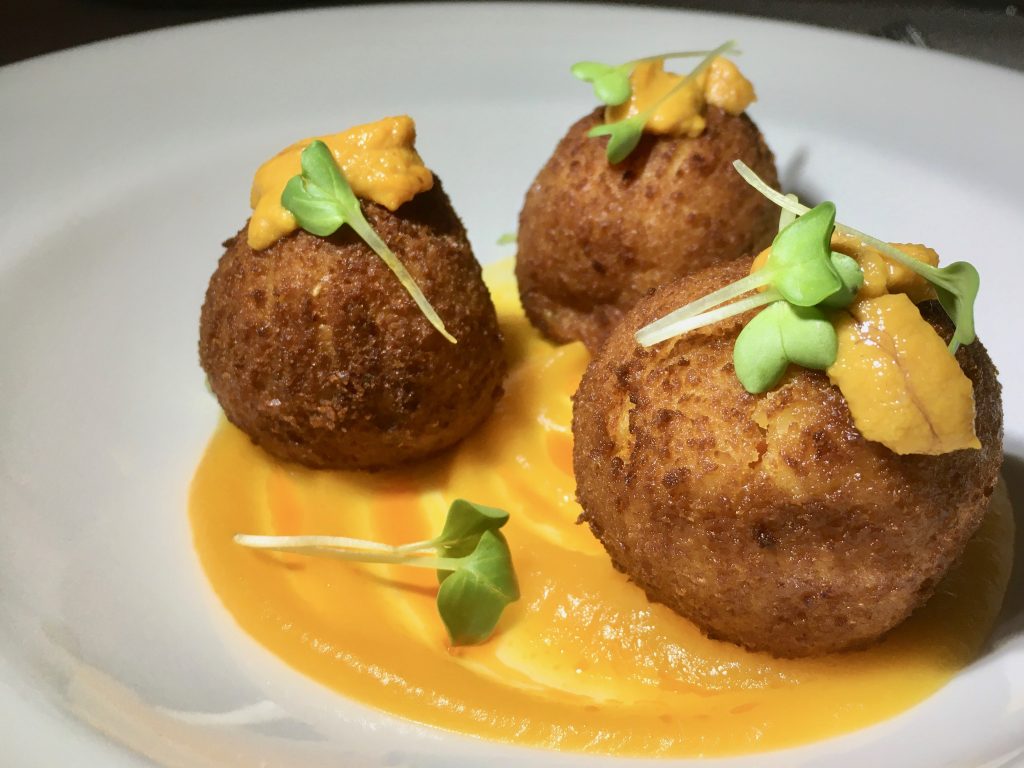 The night we arrived, sous chef Annabel Sharahy was at the helm of the kitchen. She stopped by the table to share the details of their newest menu.
I began with a delicious cocktail, their spicy margarita made with jalapeño infused Patron tequila, Triple Sec and blood orange and lime juice ($15). Nice balance of flavors and spice.
For apps, we shared the just made shrimp-broth risotto arancini ($16)  topped with uni and the amazing duck and chicken liver mousse ($16) with housemade brioche, grape chutney and cornichons. Good thing there was enough of the bread to wipe up every last drop of the mousse! Be sure to try that! With that our waiter served us a glass of Sangiovese "Belial" Poggioanima '17 ($13).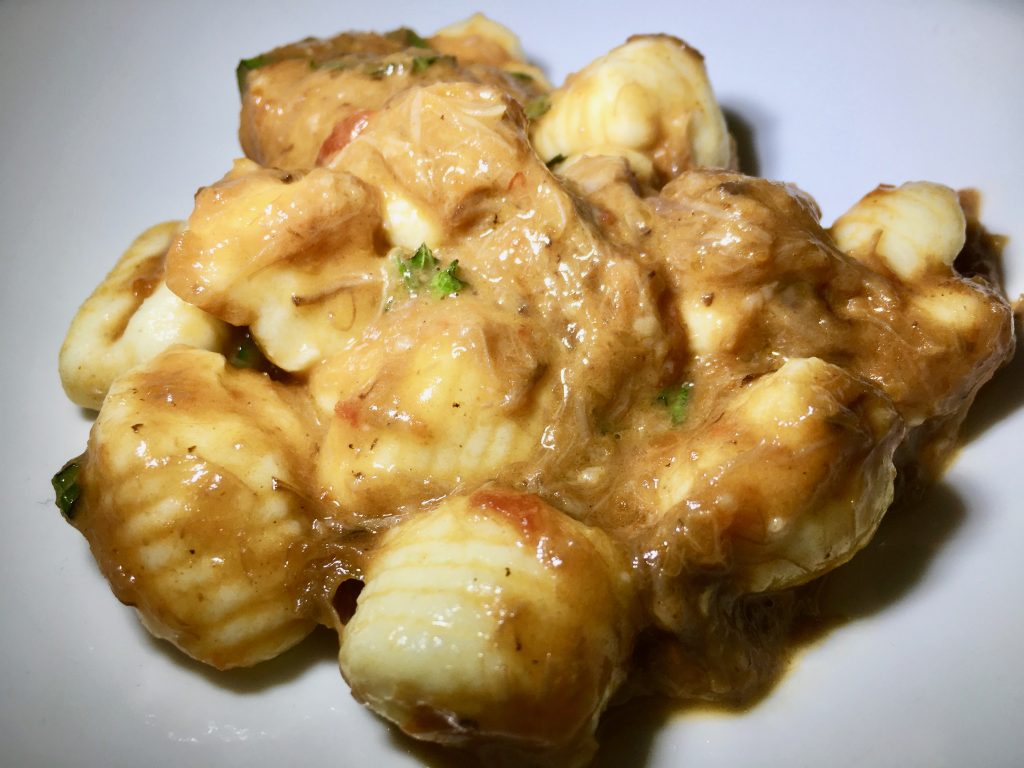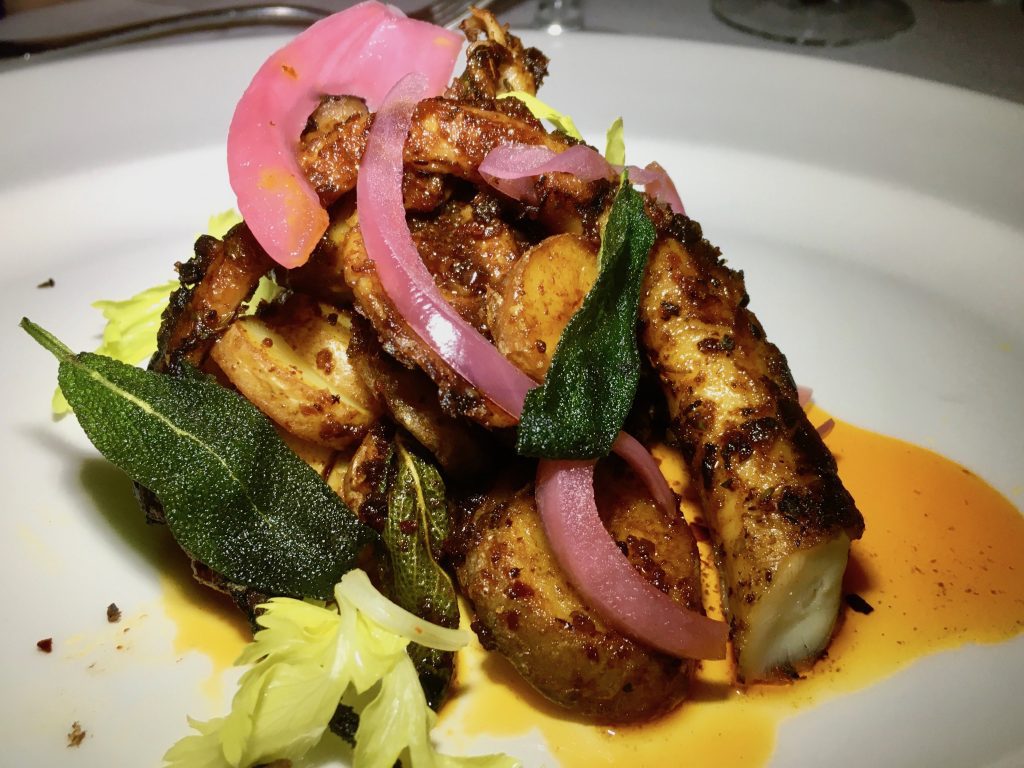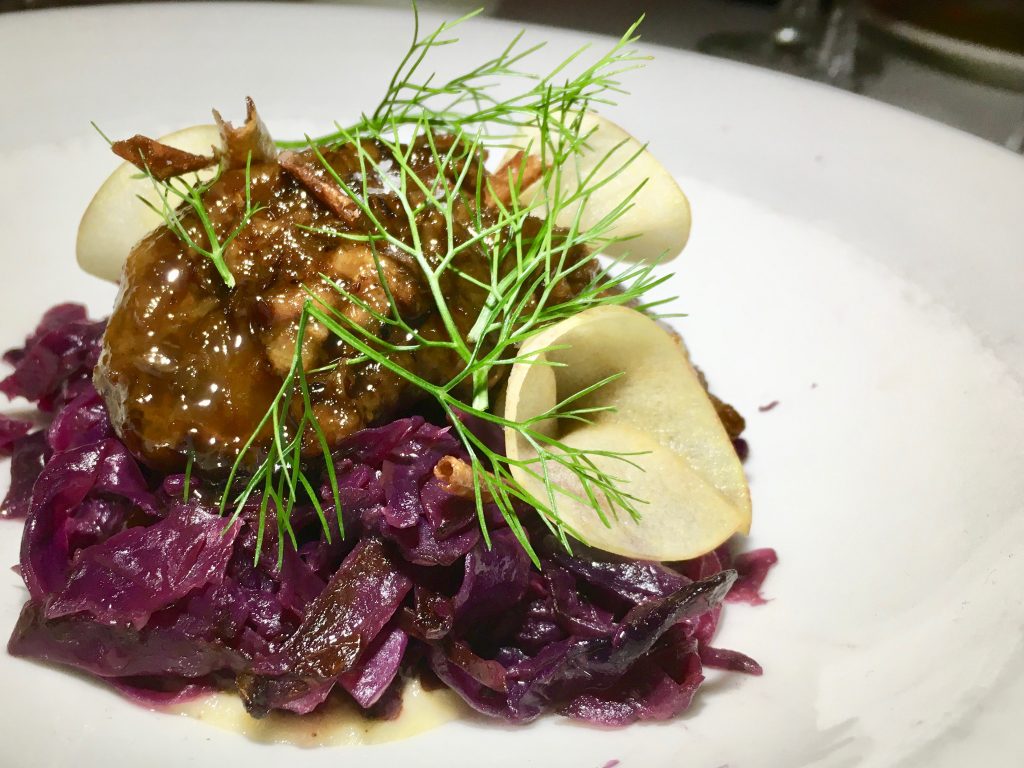 For our pasta course, we shared the ricotta and goat cheese gnocchi ($27) with a hearty lamb neck ragu topped with a blend of pecorino and grana cheese then freshened with fresh mint accompanied by the Valpolicella Superiore, Buglioni '15 ($15).
The braised in red wine and then seared Meditteranean octopus ($28) with nduja, the spicy Calabrian pork sausage and seared fingerling potatoes is garnished with pickled red onions and celery and fried sage leaves. Our wine with that was the Sicilian Nero d'Avola Soprano '15 ($14). For our final entree, we had the tender cider-braised pork cheeks ($25) with red cabbage and Granny Smith apple slices served with Montepulciano d'Abruzzo Buccicatino '16 ($14). The kitchen kindly split each dish before serving, so the photos you're seeing are half portions.
What luck! With Annabel in the midst of testing some ice cream recipes and sharing them with owner Danny Emerman who was dining next to us, I got to sample my favorite flavor: fresh mint with chocolate chip.  Heavenly.
We also tried one of her semifreddo pop of bergamot cake dipped in Valrhona white chocolate ($6) and the not-to-be-missed moist warm olive oil cake ($12) topped with vanilla gelato and drizzled with tangerine olive oil.
I recommend a special trip to Chelsea to dine at Bottino.
Bottino
246 Tenth Ave
New York, NY 10001
212.206.6766
https://bottinonyc.com/