Eric and Cole (my grandson) made the banana bread for me so that I could have some photos to share. They opted for muffins. While sheltering, I'm trying not to bake and am asking others to prepare my goodies and photograph them for me.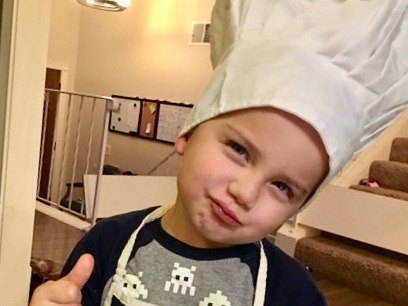 When made with overripe bananas (black), the flavor of this cake is irresistible. Be sure to have your ingredients at room temperature before beginning. Although I use a food processor to prepare the batter, you can use a wooden spoon and bowl.
Chocolate Chip Banana Bread or Muffins
Makes one 9 x 5-inch loaf or 12 muffins
Prep Time: 7 minutes
Cook Time: 45 to 50 minutes
2 large overripe bananas, peeled
1 tablespoon fresh lemon juice
2 eggs, at room temperature
1 cup granulated sugar
4 ounces (1 stick) butter, at room temperature
2 cups flour
1 1/2 teaspoons baking powder
1/2 teaspoon baking soda
Pinch salt
1 cup semi-sweet chocolate chips or chunks
Preheat oven to 350 degrees F. Grease a 9 x 5-inch loaf pan or muffin tin.
In a food processor fitted with the steel blade, combine the bananas, lemon juice, eggs, sugar and butter. Pulse until well blended. (Without a processor, use a bowl and wooden spoon to mix until well blended.)
Add the flour, baking powder, baking soda and salt. Pulse 5 times until the flour is blended in. Scape the sides of the bowl with a rubber scraper. Add the chocolate chips. Pulse twice.
Pour the batter into the prepared pan. Bake until a toothpick inserted in the center comes out clean, about 45 to 50 minutes for the loaf, 25 to 30 for muffins.
Cool in the pan set on a rack for 10 minutes; loosen the edges and turn out onto the rack to cool completely, right side up.