While in Cusco, we visited Inka Grill, part of the Cusco restaurant group, for a light bite. The meal wasn't the best place I ate in Cusco but was mighty good compared to what we'd been served at Overseas Adventure Travel (OAT)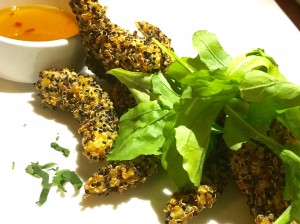 chosen restaurants — the tour I was on.
Inka Grill, which is ideally located center of town at the Plaza de Arma, offered free Wifi and had an international menu. The friend I was traveling with was in a burger mood, so we ordered that along with some fries (~$10.75). We shared that and the perfectly cooked langostinos in a white and black quinoa wrapper accompanied by a spicy passion fruit sauce (~$10.75).
I would recommend Inka Grill for a respite when wandering the high-altitude city.
– bonnie
Inka Grill
Portal de Panes 115
Cusco, Peru
+51 084 262992
<