After dining at ilili on Fifth Avenue in NYC, I begged for their refreshing palate-cleansing salad, and tested it recently. This is my edited version.
ilili's Lebanese Thyme Salad
1 lemon
1 1/2 bunches parsley, stems removed
6 sprigs fresh oregano, stems removed
6 sprigs fresh thyme, stems removed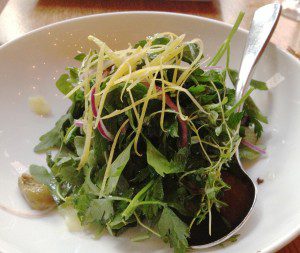 1 sprig fresh marjoram (optional), stems removed
Two 5-ounce bags arugula
6 oz. pitted, halved Lebanese green olives*
Dressing
1 tsp kosher salt
½ cup (4 oz) freshly squeezed lemon juice
½ cup (4 oz) extra virgin olive oil
¼ tsp white wine vinegar
¼ clove garlic minced
1/2 shallot, minced
Crushed black pepper, to taste

Zest** the lemon and put aside, then supreme the lemon. (To supreme is divide the fruit into sections, removing the membranes and white pith, leaving only the naked flesh.) Slice into small pieces.
Rinse the parsley, oregano, thyme, marjoram and arugula under cold water, then combine mix gently to evenly distributed the herbs with the arugula.
In a separate bowl, whisk together the dressing ingredients, then toss with the greens, lemon zest, lemon flesh (supreme) and olives. Top with the reserved lemon zest.
* If unavailable, substitute other pitted green olives.
**Remove the yellow part of the peel without any of the bitter white pith, using a special tool, called a zester as it makes small strips. Instead of zesting, the restaurant peels and finely juliennes the skin. Choose the method that works best for you.
Makes 4 servings.
– bonnie