We stopped at ilili, a contemporary Lebanese restaurant, last month before heading to a staged reading of Lion in Winter, a fund-raiser to support Phoenix Theatre ensemble's 10th anniversary season at the Stella Adler Studio of Acting.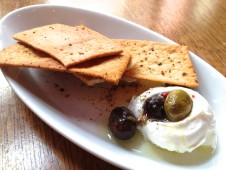 Although the restaurant also offers Mediterranean fare, we opted for traditional Lebanese, including wine. Our waiter suggested bottle of Lebanese Rose (Chateau Musar Jeune Rosé 2010, Bekaa Valley $40), which sadly tasted more like grape juice than wine. He happily replaced that with our choice of Pascal Jolivet Sancerre 2011, Loire Valley ($60), which married well with all the food.
Our various small plates kept coming in waves, starting with the strained yogurt – labne ($9) and olives, drizzled with olive oil and za'atar (a Middle Eastern spice mixture) and served with fresh crackers. The moujadara ($8) — a hearty green lentil and rice purée topped with crispy red onions — came with warm-from-the0oven pita bread. We did as the waiter suggested topping a small piece of bread with the puree to get the full flavor. Their crispy falafel is served square and includes fava beans with the chick peas blend; it comes with a creamy tahini for dipping.
Our next round included a refreshing herbaceous thyme salad,with ($14) arugula, thyme, red onions crushed green olives and lots of fresh Italian leaf parsley in a lemon vinaigrette topped with lemon zest.
Instead of huge chunks of octopus, ilili's grilled version contains small tasty slivers with cauliflower, radish slices, pepper strips and toasted almonds bound with labne ($19). We also sampled Batata Harra ($9) cubed potatoes crispy-like-fries, flavored with a garlic-cilantro butter.
We completed our meal with the classic haloumi ($12), a grilled dipping cheese with zucchini squash flavored with nigella seeds and topped with fresh thyme.
No for dessert as our show was about to begin. But I'll for sure return as I highly recommend ilili.
– bonnie
ilili Restaurant
236 5th Ave, New York, NY
(212) 683-2929
Gramercy/Flatiron
ililinyc.com