Tucked back in a corner of a residential area of Rome, we entered the cozy family run Il Timoniere, a restaurant known for classic Roman cooking. We were immediately greeted and "warmed" not only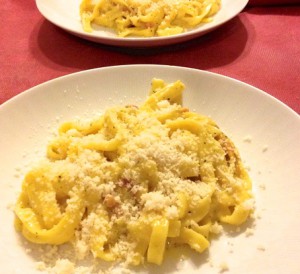 by the heat, but also by the sweet older couple who run the restaurant.
We started with an assortment of appetizers, beginning with an in-season bruschetta of asparagus and garlic, then crostini topped with zucchini flowers and a honey drizzle. Our final starter was a rich and creamy, yet light, artichoke heart, potato, cheese dish. We knew we hadn't overindulged.
Our pasta dishes included the amatriciana ($10), a tomato sauce cooked with guanciale (smoked/cured pork cheek),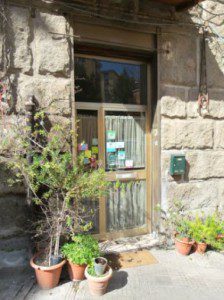 onion and garlic, all sprinkled with pecorino cheese. The carbonara ($11.25) was made with an egg that becomes creamy when tossed with the pasta, with more guanciale, lots of pepper and pecorino cheese. Lucky for us, the final addition was in-season zucchini flowers. Such a treat!
We ended with the Italian classic tiramisu mixture of cake soaked in coffee with chocolate and cream. It was a perfect mixture of not too sweet, coffee and cream custard.
If you go to Rome, I highly recommend it!
Olivia Ostunio, Guest contributor and BiteoftheBest.com intern
Il Timoniere
F. O. da Pennabili, 5, 00154 Roma, Italy
+39 06 511 0007