There are some restaurant you immediately feel at home as you walk through the door, wishing it were located in your neighborhood. That's what happened at Il Punto (Hell's Kitchen) where I dined recently before seeing the now-closed show FoodActs at the Lion Theatre.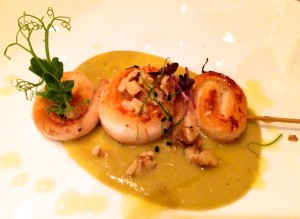 Fabio, our waiter, and I bonded as he gave me a sample of the Vicolo Montepulciano D'Abruzzo 2008, served by the glass. I had asked him to hold the bottle so I could capture the label with Vivino, the wine app a sommelier at Eleven Madison had shared with me that I've been using it ever since.  Fabio was intrigued how after I took my photo, it recognized the wine. He jotted down the name.
We began with the delicate Polipo Scottato Su Letto Di Fave, skewered rounds of seared octopus over fava beans puree with crispy walnuts and lemon-flavored olive oil  ($14).  And the disappointment of the evening, the  Sapore di una Pamigiana de Melanzane ($14), a decomposition of an eggplant parmigiana with some buffalo mozzarella that was not attractively presented, nor very flavorful.
We were planning to order a pasta dish, but Fabio recommended the Risotto al Parmigiano e broccoli  ($20) with perfectly cooked Arborio rice made creamier with lots of Parmigiano Reggiano topped with sauteed broccoli rape seasoned with hot
pepper, to make it spicy. I'd highly recommend.
While we were finishing those dishes, the adorable young Italian born and bred executive chef Antonio Mermolia stopped by the table to chat, offering us suggestions for another dish. He left, saying he'd send out something. What arrived were two incredible dishes:  Branzino with crispy skin, with a salad made with carrots, mushroom and arugula in a lemon dressing atop a mushroom puree. Exquisite! But even more unusually tasty (and the chef's favorite dish) is the onion gelato salad. It's an appetizer with red onion gelato (That isn't a typo… It truly was a refreshing onion gelato!) along with  shrimp, arugula, shaved fennel and caramelized onions in a balsamic lemon dressing. The chef suggested getting some of each ingredients in each bit. Ethereal.
We had no time for dessert, as the curtain was going up!
I consider this a great find! A place I'd highly recommend before theatre or to spend the evening!
Il Punto
Hell's Kitchen
507 9th Ave
New York, NY 10018
(347) 916-8132