On Coronado Island I walked with some friends to Il Fornaio, an Italian restaurant with views of the bay and the San Diego skyline.
We ordered the Capricciosa  — a thin crusted, house made pizza ($15.99) topped with mozzarella from Italy, ham, artichokes, mushrooms and kalamata olives — to nibble while we decided what to order.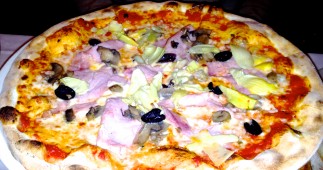 The five of us decided to share three salads and three pastas, family style. We had a hard time finishing it all!
We had the Insalata di bietole ($10.59) with organic red and golden beets atop wild arugula and toasted walnuts covered with a slice of Asiago cheese in a lemon-olive oil dressing. We also had the Insalada Cesarina ($10.29) with some romaine in a Caesar dressing topped with two thin slices of Parmigiano, part of a hard-cooked egg and three focaccia croutons; and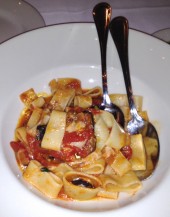 the insalada della casa ($10.79) an ample chopped salad with romaine, radicchio, cannellini beans, avocado, tomato and cucumber all in a Gorgonzola dressing. I'd skip the anemic Caesar if I returned.

Next we shared three pasta dishes. My favorite was the truly spicy Calamarata alle melanzane ($16.99) — large pasta rings tossed with diced eggplant, tomatoes, Calabrese peperoncini and smoked mozzarella. A melange of wonderful flavors.
We also liked the slightly spicy Maccarruni Ccura 'Ndujia e Melingiane ($15.99) – listed on their special Calabria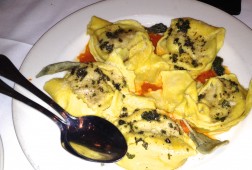 menu offered only in March. That dish consisted of spaghetti with sausage and eggplant ragu all tossed with a Cabarian 'ndujia (a spicy spreadable pork sausage) sauce and topped with shaved ricotta salata cheese. Quite a hearty dish.
Our third pasta was the Cappellacci di zucca ($18.99) butternut squash and walnut-filled ravioli in a brown butter with some tomato sauce, garnished with Parmigiano and crispy fried sage. A dish so rich that we all concurred the only way to eat this dish is shared – one ravioli was more than enough.
If you're on Coronado Island, I suggest you stop by.
Il Fornaio
1333 1st St
Coronado, CA 92118
(619) 437-4911