Earlier this summer I stopped at Il Buco Alimentari e Vineria, an extension of the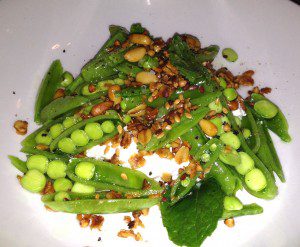 original Il Buco restaurant still located on adjacent Bond Street in Greenwich Village.  The front of the restaurant is a market and bakery, the back a noisy eatery and wine bar. The food is fresh and quite good, but a tad pricey for the small portions.
Loved and recommend the refreshing house-made ricotta with small,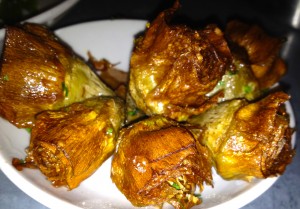 sugar-snap peas, pine nut granola and  fresh mint, ($14) and the tender crispy artichoke hearts with preserved lemon and parley ($12).
The tender manilla clams, steamed in white wine, arrived topped with pancetta and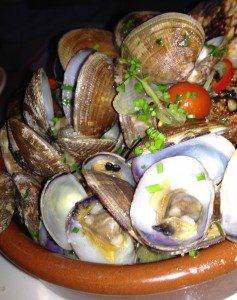 small grape tomatoes ($16).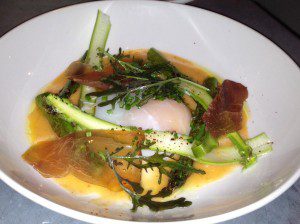 Thin slivers of asparagus ($14) come with mojama and a lightly poached egg that you break to become the sauce. Perfection. We also had a side of the — not to be missed — crispy polenta dusted with Parmigiano ($7) Reggiano. The only disappointment was the cacio e pepe $17, a minimalist dish that I usually love for it's simplicity  of fresh pasta cheese and pepper.
Our crisp 2010 Garlider Veltliner ($50) was the perfect match for our various nibbles.
– bonnie
Il Buco Alimentari e Vineria
53 Great Jones St
New York, NY 10012
(212) 837-2622
ilbucovineria.com