Curiosity got me to head to Eataly downtown to what was billed as the fastest press event ever. Only thirty minutes to celebrate the launch of their new fast service ravioli bar.
I was the first to arrive, getting a tour of the pasta making facility before ordering the ravioli of my choice. They offer three pasta options each with a sauce ($11.80 – $13.80). The Classico(ricotta and organic spinach with fresh tomato and basil sauce) Piselli (peas, mint and Pecorino Romano with an asparagus and Parmigiano Reggiano sauce) and the Prosciutto con Sugo del Giorno (prosciutto di Parma ravioli with the sauce of the day. I chose the latter one with Wednesday's sauce of mushrooms, arugula and beef. So rich and hearty I couldn't finish. Would be perfect, though,  for a chilly winter or fall day.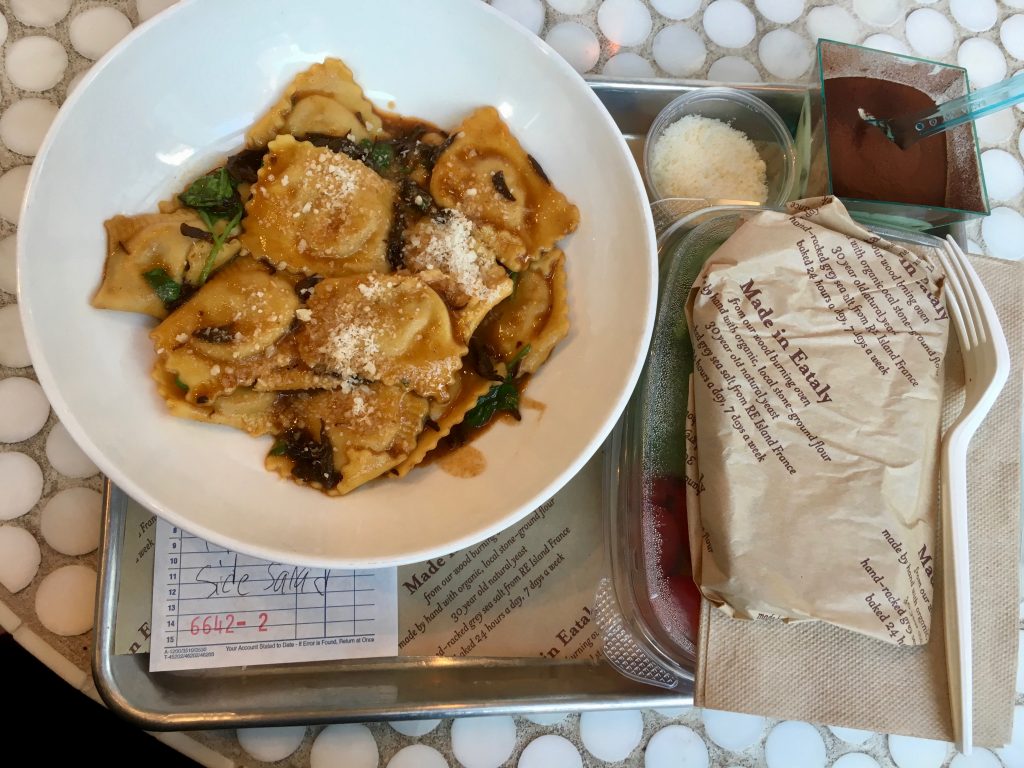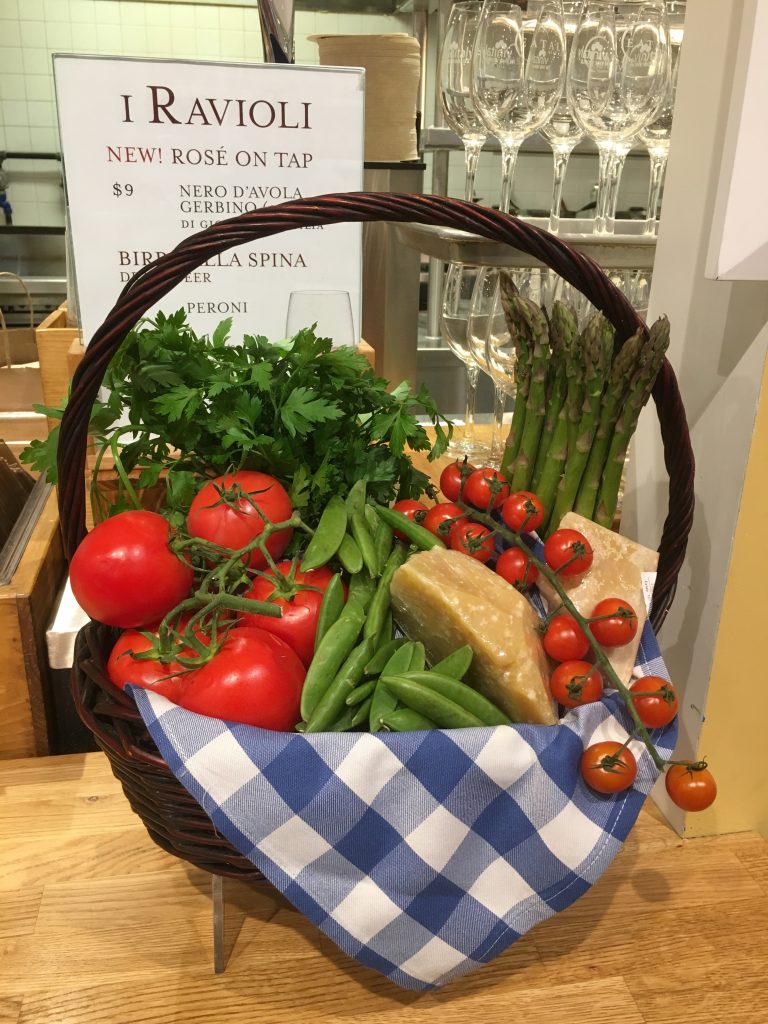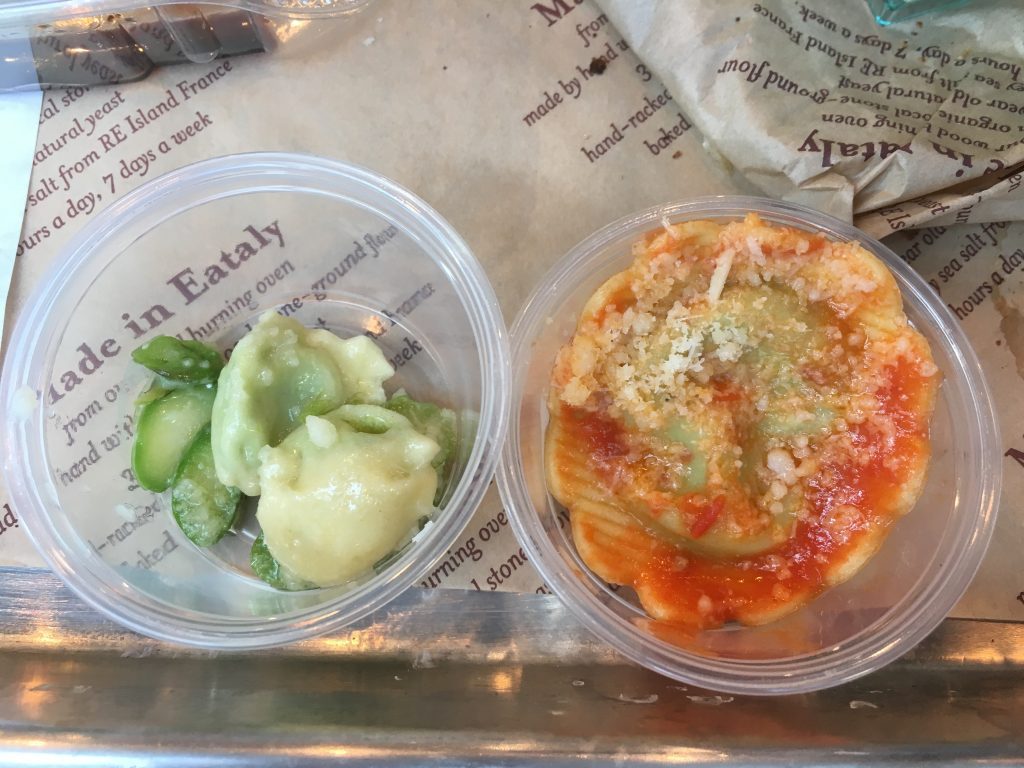 I included a mixed green salad ($2), more Parmigiano Reggiano ($1) and a teeny portion of tiramisu  ($6.40).  I would skip dessert if I went back.  I loved that they have Nero D'Avoloa Gerbino, 2016, Di Giovanna ($9) on tap! My first taste of that grape's rosé, it won't be my last.
I was glad they also gave us a small sample of the two pastas I hadn't tasted. The hands down best – which I'd recommend if you stopped by is the Classico!  I was thrilled that our goodie bag had a container the fresh spinach & ricotta ravioli from Eataly's Pasta Fresca counter (the one used in the Classico!), a small piece of Grana Padano, a jar of walnut sauce and a printed Eataly recipe
Loving the fresh tomato sauce so much, that's how I made it at home. I first sautéed some shallots and garlic in EVOO, added some peeled, seeded and chopped tomatoes; and cooked for a few minute before adding fresh chopped basil and serving it atop the cooked ravioli, sprinkled with the freshly grated cheese. Delicious.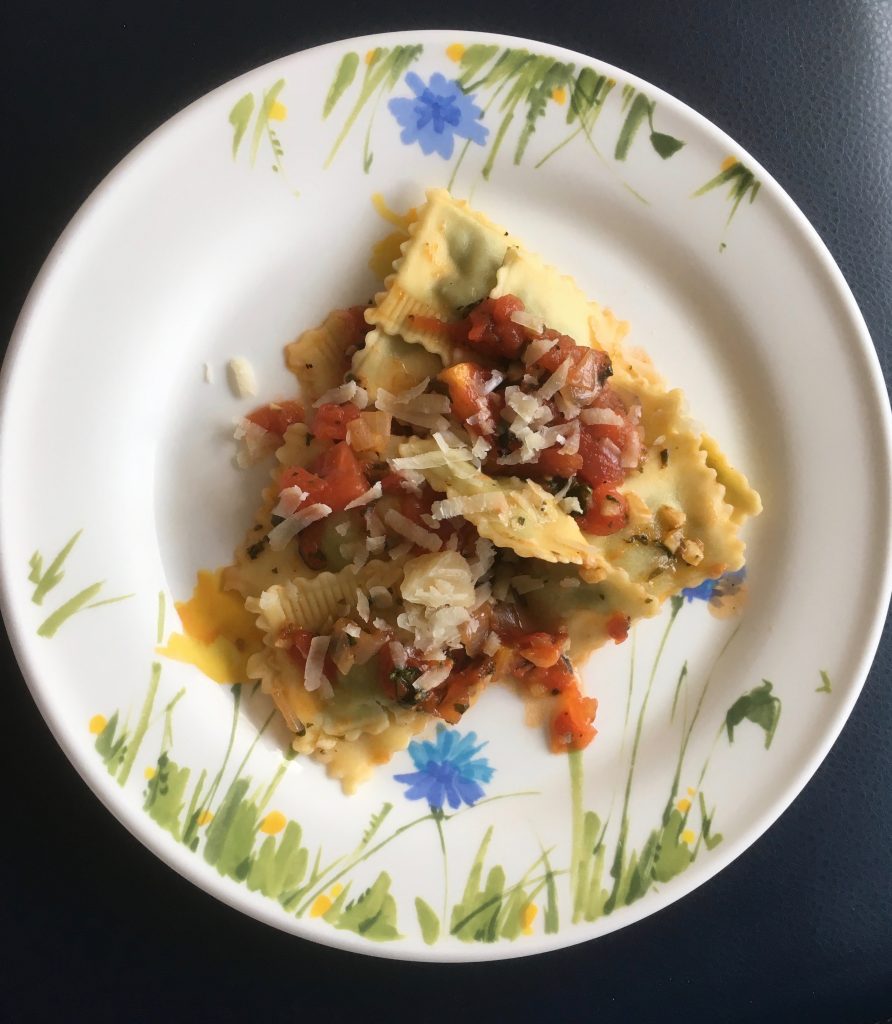 I Ravioli
Eataly Downtown
101 Libert
NY, NY 10007
212.897.2895

Save