If you've ever been to any Hawaiian island, when you hear the words "Everybody loves the Hukilau…" you can almost also hear the strummings of live Hawaiian music in your head about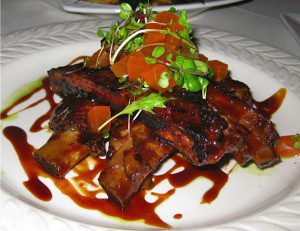 this way of casting a net into the see to catch fish.
The Hukilau Lanai at the  Kauai Coast Resort is named after that way of fishing, and as you'd guess – they offer fresh Pacific fish such as the opah (sweet flavorful Hawaiian Moonfish) opakapaka (pink snapper) uku (grey snapper), and mahi mahi (dorado). Different fish are offered in nightly in various preparations ($27-28).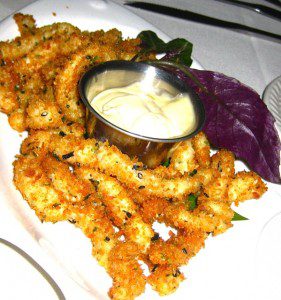 Loved their list of twenty wines for $20 a bottle (we tried the refreshing Discovery '09 Marlborough, Sauvignon Blanc) and the live music at Wally's Lobby Bar. The night we were there Wally, on the guitar, and Polei Palmeira, on xylophone, offered up a taste of Hawaiian music.
For pūpūs, try the very meaty smoked pork BBQ back ribs, which are almost a meal in themselves, coated in a blend of Hawaiian vanilla bean, hoisin sauce, ling hing mui (salty dried plum) and topped with diced pickled watermelon and micro-greens ($11) or the hearty portion of panko and furikake (a dried Japanese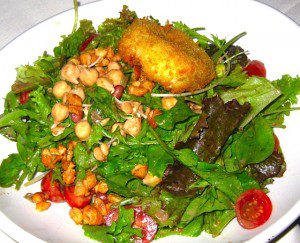 seasoning) crusted fried calamari served with a lemon sambal aioli ($10),
They serve the fried Kunana chevre atop greens,  tomatoes, sprouts, candied mini mac-nuts in a light lemon vinaigrette. ($9)
Wish I had room for the chocolate lava cake that I eyed as the couple next to us devoured every crumb.  If you want that dessert, be sure to order it ahead of time – as it takes 20 minutes.
– bonnie
Hukilau Lanai
Kauai Coast Resort
520 Aleka Loop
Kapaa, Hawaii 96746
808.822.0600