I can't believe how much food I sampled recently at the new Home restaurant in Branford (in the space formerly occupied by Foe: An American Bistro).  Owner Jared Schulefand had invited me and special correspondent Robbin Seipold to try his new place.
Within minutes, I learned that Jared also hailed from Hamden and attended Ridge Top Club in North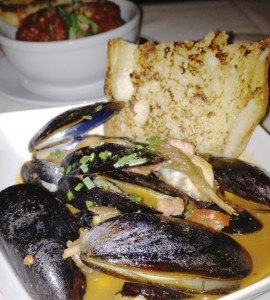 Haven. Small world.
Jared wanted to share the highlights of his menu, so he began by serving us a bowl ($5.50) of his Turducken Chili topped with cornbread croutons, made from ground turkey, duck stock and cherry-pepper-and-onion stuffed chicken sausage from New Haven's Napoli.  Jared likes using local products.
Next he served housemade Crab and Spinach Spring rolls, $13 along with a spicy curry dipping sauce. The chef filled the rolls with  a bit of crab, spinach, cream cheese and a little marscapone. I would have preferred more crab and less cheese. Next were three of chef Mike's homemade giant meatballs (recently mentioned on NPR) smothered in housemade marinara sauce, also served the the garlic toast ($9).
Really delicious are the Home Poppers ($8) – Local 203 (Branford, CT) beer-battered cherry peppers stuffed with pork belly chicharone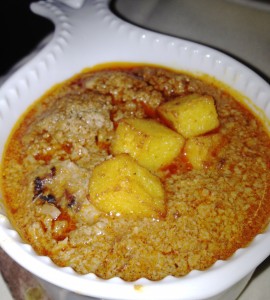 (cured and roasted in house) with fontina cheese, served with a roasted red pepper Romesco aioli and the plump Pan-steamed mussels ($10) in a smoky Thomas J. Hooker Irish red ale (from Bloomfield) and smoked tomato broth with andouille sausage, mushrooms and housemade garlic toast.
Next we sampled appetizer portions ($6.50) of Home's creative salads. The arugula salad with housemade dried cherry 203 (Stony Creek) IPA vinaigrette with curried pumpkin seeds, polenta croutons and goat cheese and pumpkin beignet; plus the fresh spinach salad tossed in a housemade smoked tomato ranch dressing, with crumbled mild-flavored Mountain Gorgonzola, tomatoes, chopped Applew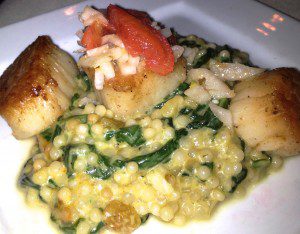 ood smoked bacon and a beer-battered fried onion. When served as the regular-size portion, this spinach salad is topped with a blackened filet mignon.
The food just kept coming! We then we sampled four of his hearty comfort-food entrees.
My two favorites — ones that should not be missed on this comfort-food menu — are the scallops and the pork.  The grilled prime pork rib eye ($23) is first seasoned with a ten-spice blend, then cooked to tender perfection, served with crispy pan-fried (a tad overcooked) spaetzle tossed with braised red cabbage, arugula and roasted carrots with a Dijon lemon-honey sauce. The three medium rare pan-seared scallops ($24) come with spicy, white harissa (flavored with coriander and cumin) creamed spinach Israeli couscous topped with a golden raisin and topped with a blood orange and fennel salad. Ethereal.
Home slow-braises the hind lamb shank overnight in a port wine and a chipotle stock and then serves the braised lamb shank ($26) with roasted mushrooms and sauteed arugula over the mild Mountain gorgonzola polenta.  Next came Chef Mike's special tortellini, with housemade pasta, stuffed a mixture of ricotta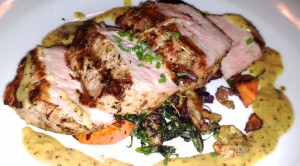 with a bit of spicy chorizo, roasted red pepper, braised kale and with sweet Italian sausage again from Napoli (that itself was filled with broccoli rabe and garlic) all in smoked tomato butter sauce. To be honest, I was too full to even taste it.
Can't report on dessert, as we skipped that and just had some espresso.
I highly recommend a trip Home — and don't miss the scallops or the pork!
Home Restaurant
1114 Main Street
Branford,Ct, 06405
203-483-5896